1997 COUNTRY COACH ALLURE 36 ft.
MINT CONDITION
A beautiful one owner motorhome that has always been garage kept since new.
Very rare "Amethyst Metallic" color scheme.
Large "Great Room" 12'4" slide-out.
This motorhome has always been kept in an enclosed garage since it was brand new, except when we were travelling. The paint and leather still look new. It still has a factory fresh appearance. It has never been lived in or smoked in. It even smells new inside. The original owners are my neighbors and they loved this thing like it was one of their own kids. Since we have owned it, we have kept the same way, with everything always covered. It looks like it has no wear showing at all. All of the fabrics are pristine. There is not even a spec of dust anywhere. The carpet has also been covered since new. Even if you bought a new one, I doubt it could look any newer. The exterior is still very glossy and, except for one tiny ding on the bottom of a compartment door (picture included), there are no flaws.
This coach is very rare for a high line motorhome because it really sleeps 8 people. It was special ordered with a beautiful dinette and two couches that ALL turn into beds. You will notice the very long couch that does not have a hump in it at the back like most Country Coaches have. Those couches have a drawer under them but they do not convert into a bed. This one does.
The engine is the big intercooled Cummins turbo diesel bus engine known as the 8.3 Liter, rated 325 HP at 2200 RPM with 915 lb/ft torque at 1300 RPM. This engine is simply the best of the best. There are many of them running all over the USA in commercial applications with well over 1 million miles on them and still going strong. The amazing thing about this engine is the fuel economy (9-12) is the same or better than the smaller Cummins 5.9L delivers, yet it has about twice the torque. The Allison "World" 6-speed automatic transmission is tried and true, and has changed very little over many years. It locks the torque converter in the top 3 gears, which allows it to run much cooler and last a very long time. A full service was performed on the transmission at 52K miles (records are all included).
A lot of people claim their motorhome is "ready for the road", but often times there are lots of little things to service and fix. This motorhome, on the other hand, is truly ready for a trip and it needs absolutely nothing. Every cabinet works perfectly, every knob functions like new. It was just serviced again so the oil has 2 miles on it (driven from the service facility to my house). They also lubricated the chassis and installed a new air cleaner. If they could have found anything else it needed, believe me, they would have gladly charged me for it. Here are the main points to consider:
*Like new.
*Low miles.
*Garage kept.
*Exhaust brake.
*Everything works.
*All documentation.
*Full Zip Dee awnings.
*Seamless fiberglass roof.
*Washer/Dryer combination.
*2000 watt inverter (factory).
*Optional Ultraleather seating.
*Incredible power and economy.
*Computerized automatic leveling.
*Never smoked in, never any odors.
*Dual-pane thermo-insulated windows.
*Factory painted body graphics (no stickers).
*Ducted central air conditioning with dual heat pumps.
*Tires replaced summer of 2009 (less than 5000 miles).
*7KW extra quiet Power-Tech Diesel generator with low hours.
*100-watt SES solar power system, 30 amp hours daily charge.
*Wide-body (102") Dynomax Chassis with full air ride suspension.
*Locally advertised so this auction may need to be ended early if it sells.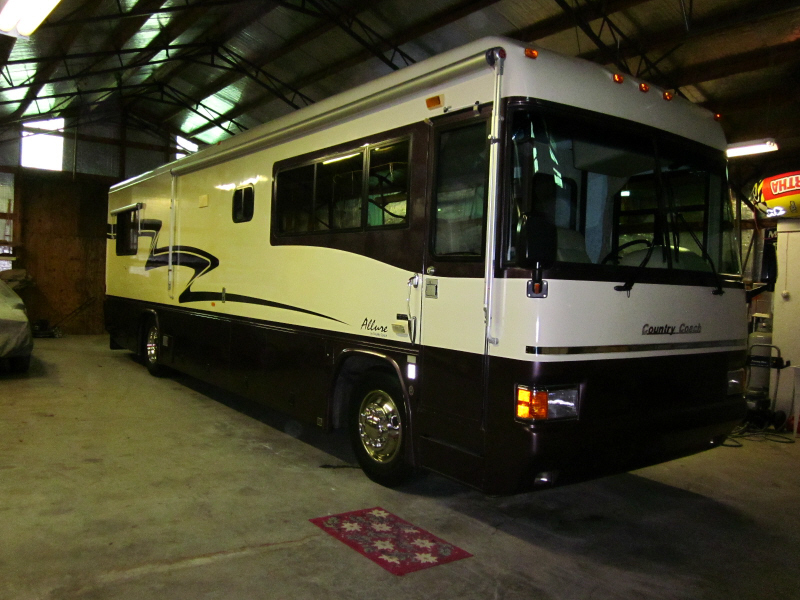 Always garage kept since new (except when it is on a trip somewhere).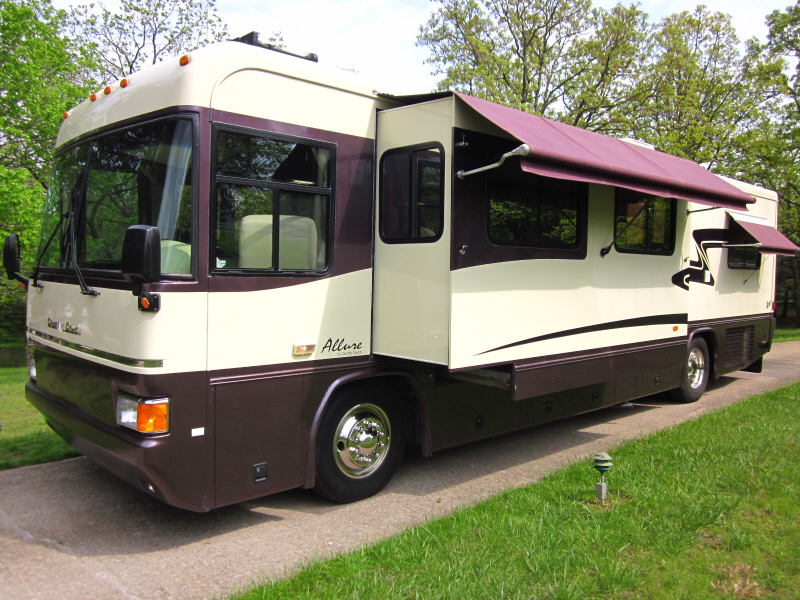 The motorhome rides super smooth on air bags. It feels like you are in a Cadillac. It is not "air assisted" suspension but, rather, "full air ride". When I was shopping for a motorhome I learned that many of them are advertised as having "air ride" but there is a big difference between these two types of systems. The slide out is very large (12' 4") and has an unusual slide awning that also serves as a window awning.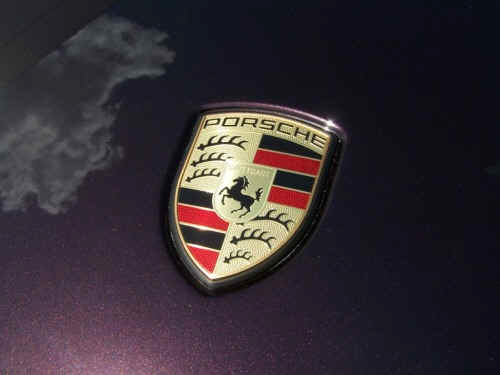 It is interesting to note that this rarely seen Amethyst Metallic paint color is a BMW and Porsche color. They still offer the same color on some current models. If you ever need touch-up paint, you can order it from a dealer or Sikkens Brand R577 (PG 371 E-4), aka Daytona Violet Metallic BMW9412 (PG371 G-4).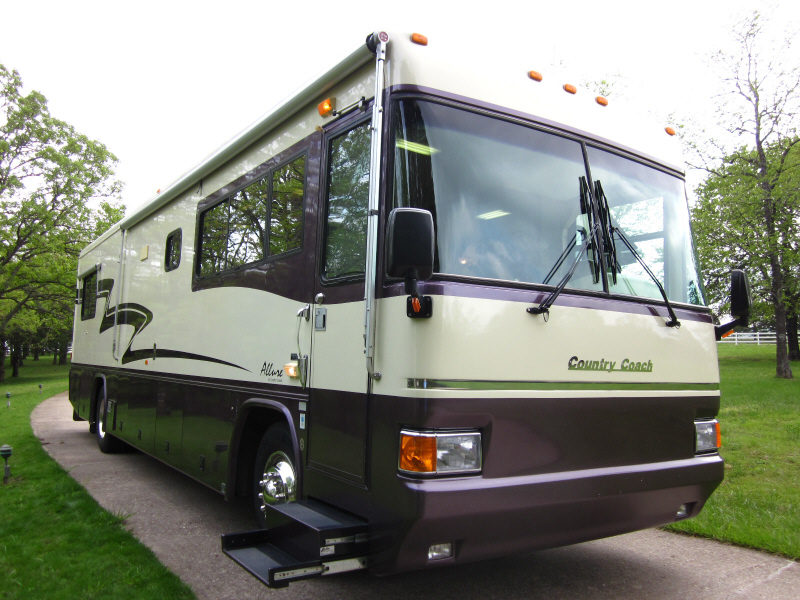 All glass is perfect without pits or cracks. All of the dual-pane windows are still sealed and there are no cloudy windows. There is a full braw for the front included. I wish I had a sunny day to take these today but it was about to rain so I had to hurry. We've had nothing but rain rain rain so this was my chance.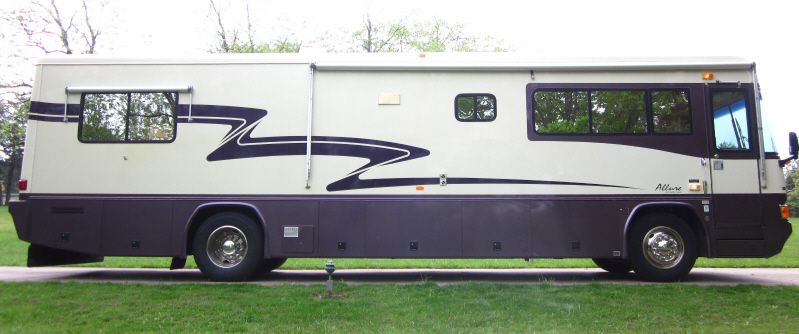 All of the construction details of a Country Coach are first class. They simply do not cut corners. The roof, for example, is not rubber like a lot of cheaply built motorhomes. Instead, it is a one piece fiberglass roof cap. It is 36 feet long without any sections or seams, and contours over the sides. It is a permanent roof that never needs maintenance or replacement and will never leak. This method of roof construction cost the manufacturer many thousands of dollars more than rolling out a sheet of thin rubber (nearly all Fleetwood products, for example, have rubber roofs-- even the expensive models). Notice all of the side windows are factory tinted to appear to be mirrors during the day so you cannot see into the coach. It gives a very high class appearance. I also have to tell you about the Dynomax chassis, which has received many accolades for its rigid construction. It is not just a rail frame like almost all motorhomes. Rather, it is a semi-monocoque design, meaning it still has two large raised rails off of which the bottom portion of the coach is welded into a jig, just like bridges are built. Instead of the body being attached to a rail frame chassis, the entire body is the frame. A Country Coach has very little body flex. This is one reason you do not see cracked floor tiles in a Country Coach as you do in many other brands. You will be able to notice a difference as there is a lower center of gravity, much less sway, and better road manners. The Dynomax chassis also includes "Independent Front Suspension w/Double Wishbone Construction, Large Bus Style Air Springs, Disc Brakes and an IPD Anti-Sway Bar." There are no proprietary replacement parts -- everything is readily available. It is also good to know that Country Coach is still in business in Oregon and still sells parts and service for their coaches. They are back in business after the big luxury RV shutdown that occurred.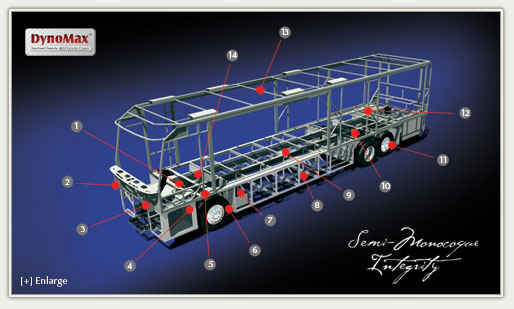 This gives you an idea of what the Monocoque construction looks like and why it is so rigid. It is made with "Welded High-Yield Steel".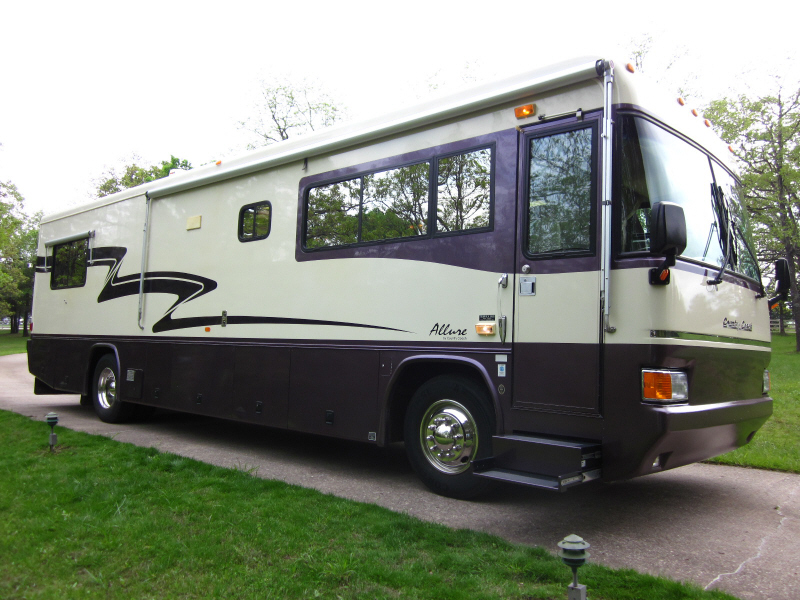 The motorhome still has a very glossy appearance and is highly polished. It is kept "detailed" all the time.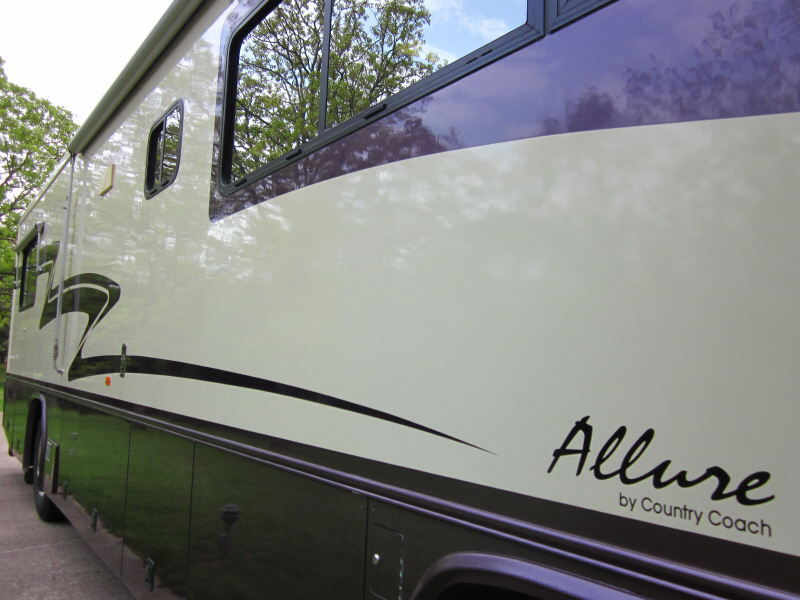 Everything in the yard reflects off of the body. You can fill the diesel tank up from either side so it does not matter which direction you pull in at the fuel station.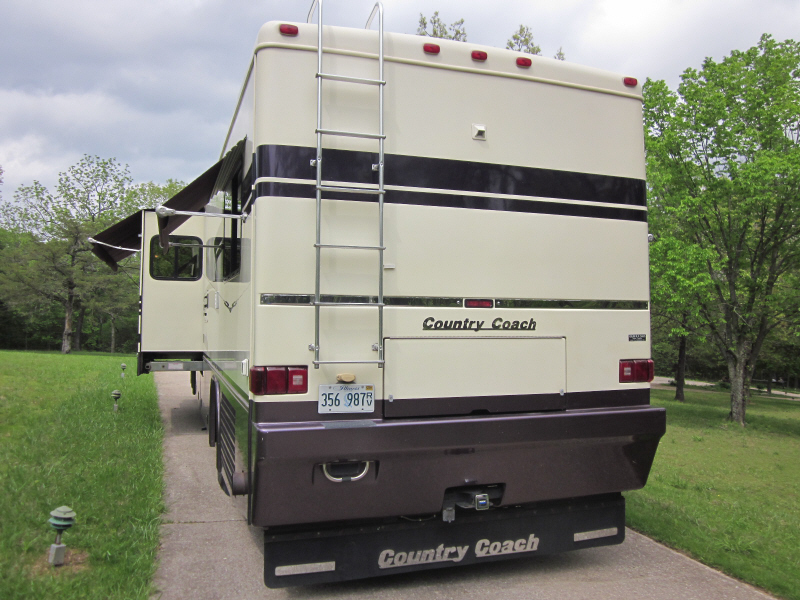 You can pull any kind of car with the Reese tow hitch. Notice the radiator is on the side of the coach. This is also a very expensive method of construction-- a common characteristic of large commercial buses. It allows for direct access to the engine from the rear compartment and makes maintenance a lot easier. There are no dings or dents on the back, which is by design. You can easily see what is behind you with the rear view camera built into the dashboard up front. The bottom of the monitor screen is the actual bumper, so you can back up to within a few inches of an object and know right when to stop. It is easy.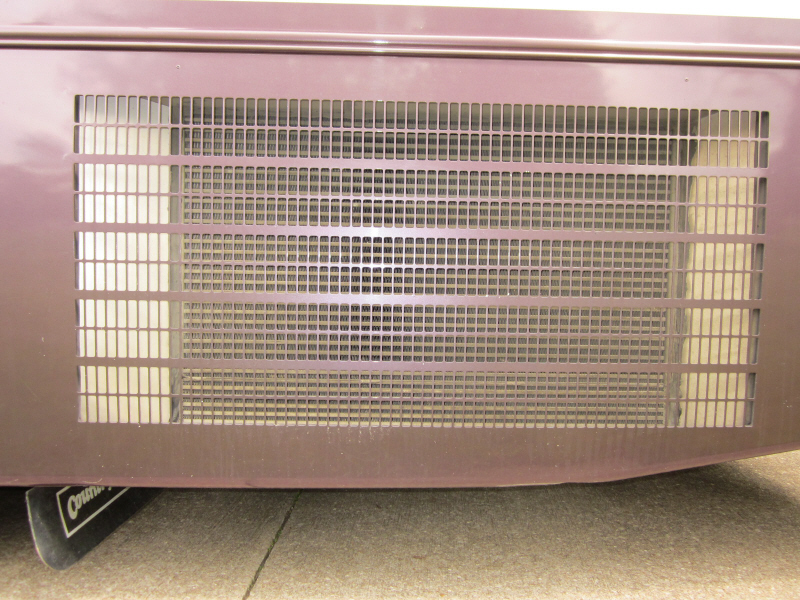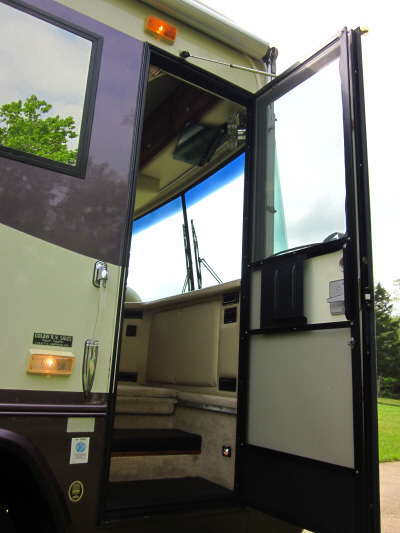 Please come inside now...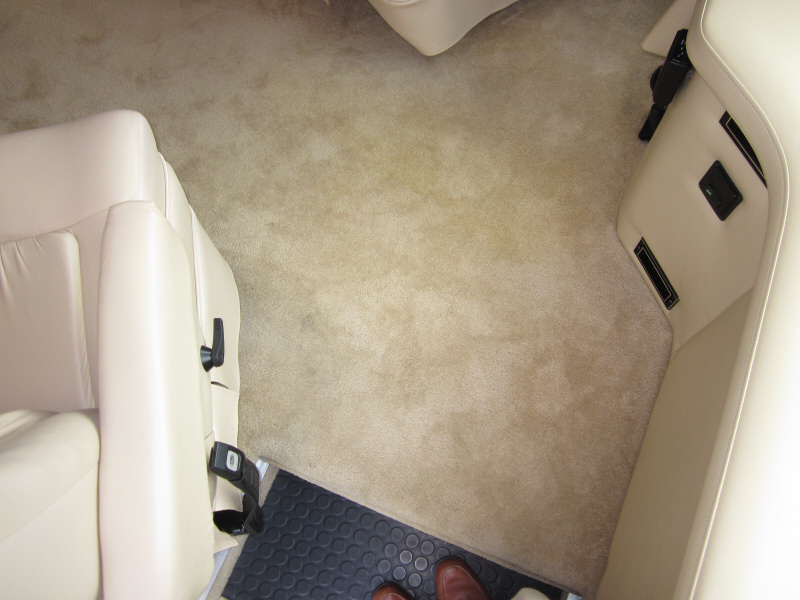 There is no wear showing anywhere --even on the carpet where you first step in.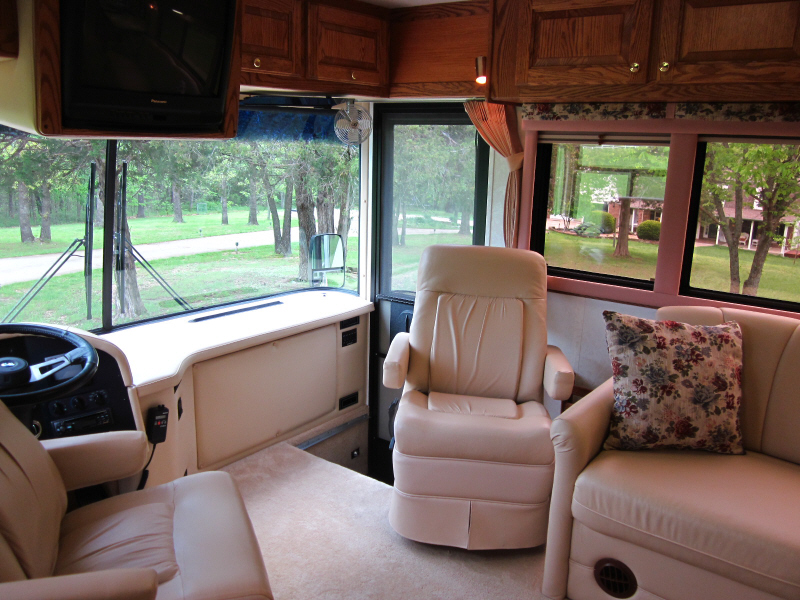 The coach was special ordered with optional Ultraleather upholstery. In case you are not familiar with it, Ultraleather is quite amazing. It is much better than leather and costs more as well. It is much softer and yet much more forgiving and resistant to damage. It is very difficult to scratch it. It is very easy to clean. It also breathes better than leather so you do not get all sticky and sweaty by sitting on it. Also in this photo please notice the windows. From anywhere you are seated you have a fabulous view.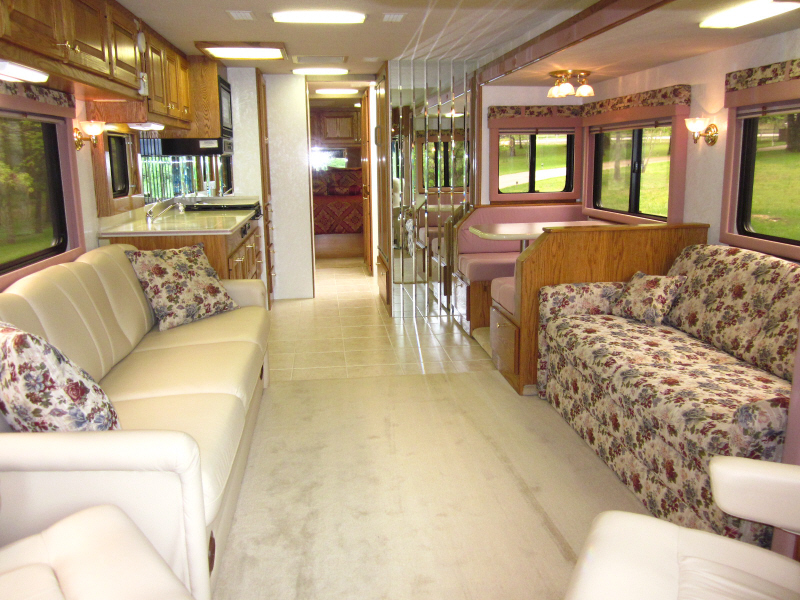 With all of the seating, two families could easily travel together in this coach. The interior is very bright and the windows on this motorhome are all HUGE and let in lots of light. There is also lots of interior lighting in both incandescent (for atmosphere) and florescent (to save energy when dry camping). The colors are mostly neutral with mauve and red floral couch and window treatments. The high quality carpet is in flawless condition with no stains at all (always covered since the coach was first brought home from the dealership). As noted above, both couches and the dinette makes into beds so the coach sleep 8 people (short people or children would be more comfortable on the smaller floral couch bed). There is also a considerable amount of storage under all of them.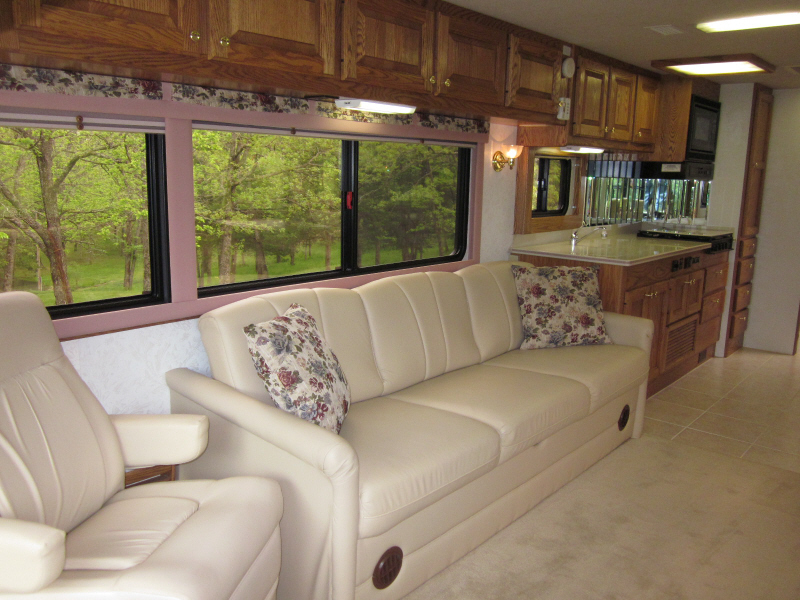 The large couch is very comfortable. It is the kind that you "sink" into. My wife and I both love it.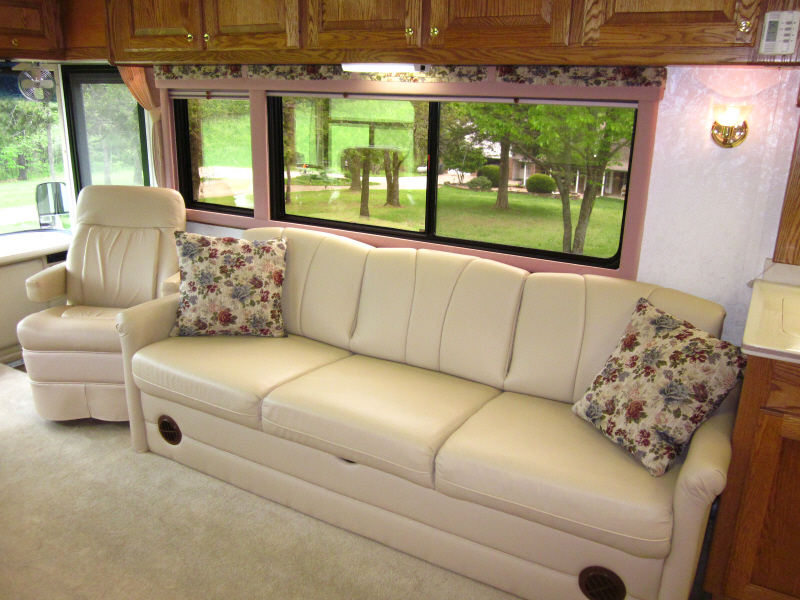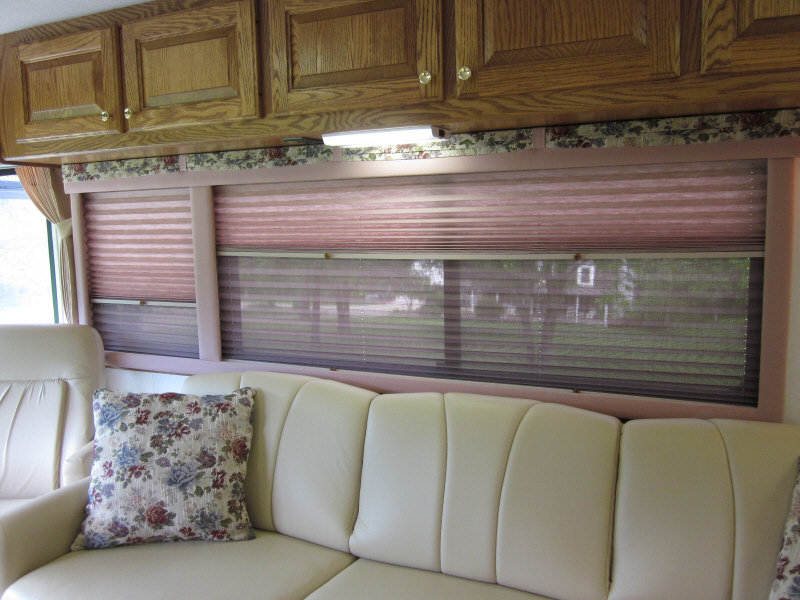 All of the windows in the motorhome have these pleated day/night shades. They are all in excellent condition and they are under a lifetime warranty on the mechanism due to the manufacturer's agreement with Country Coach. Last summer we had to send one to the factory for repair and it came back good as new. All we paid for was the postage to get it there and they paid the postage back. This benefit will transfer to the new owner as well.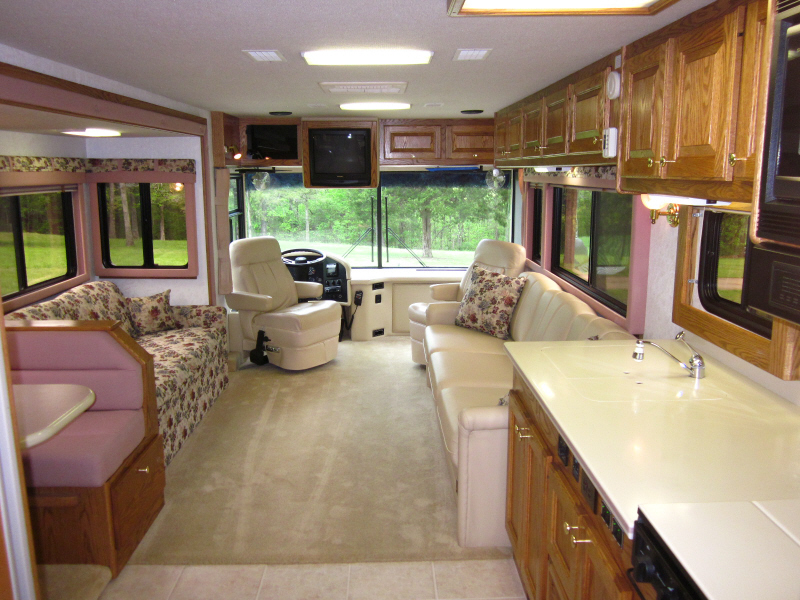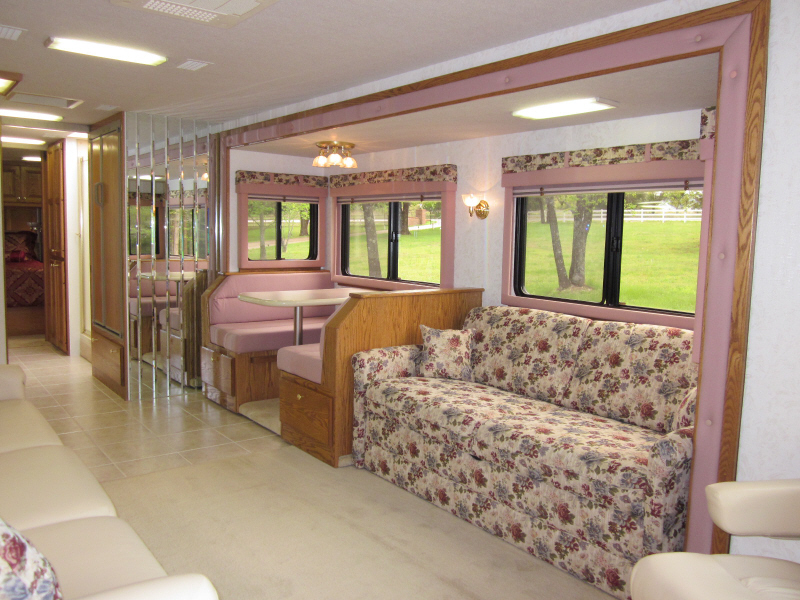 The slide is also a notable Country Coach quality feature. It is built in a jig (like a bridge) just like the chassis so it is super strong and does not flex. But the biggest deal about it is how it operates. It is not a "screw type" mechanism like most coaches have. Instead, it uses a hydraulic system made by HWH Corp, which is much more reliable and trouble free. It moves effortlessly without laboring at all. In my opinion, the slide with the dining area and couch is so much more sensible than a kitchen slide. There are so many benefits and I cannot understand why anyone would want a kitchen slide. First, motorhomes with kitchen slides have tiny kitchen cabinets. Second, kitchen slides require water and propane lines to be flexible and move in and out with the slide, and will always run into problems down the road. Finally, a living room slide allows for these wonderful side windows so you can see forward and aft -- kitchen slides almost never have side windows.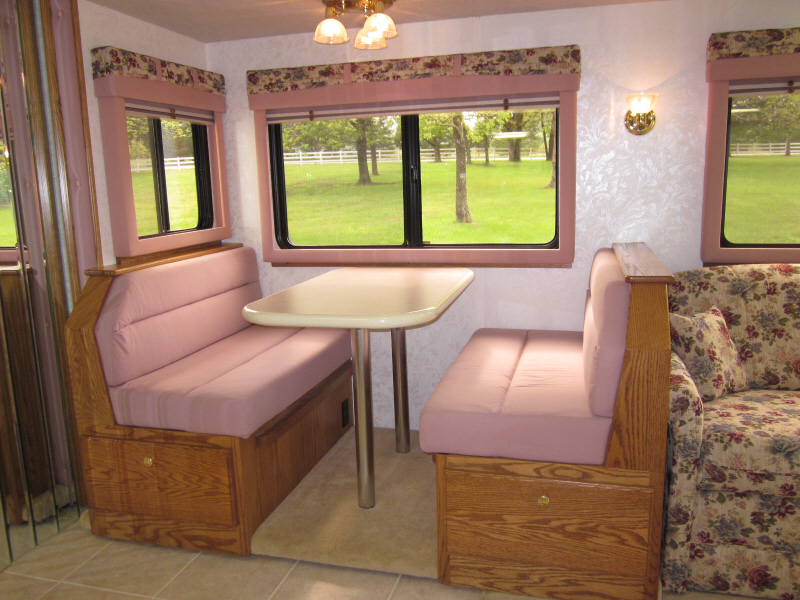 The dinette is very large and does not feel cramped at all. The fabric is all like new. The drawers underneath are huge and large enough for big pots and pans or appliances. All of the cabinetry in the coach is masterfully done and made of solid oak (no particle board or fake wood appearance).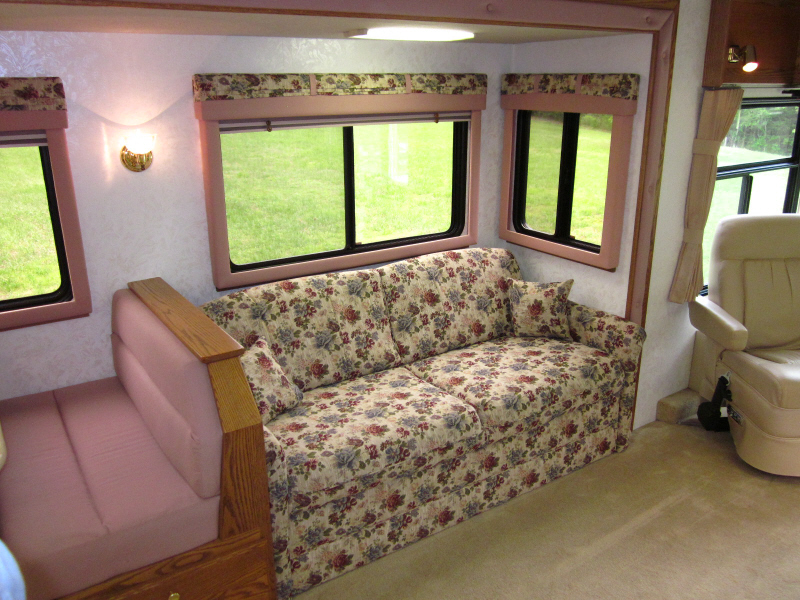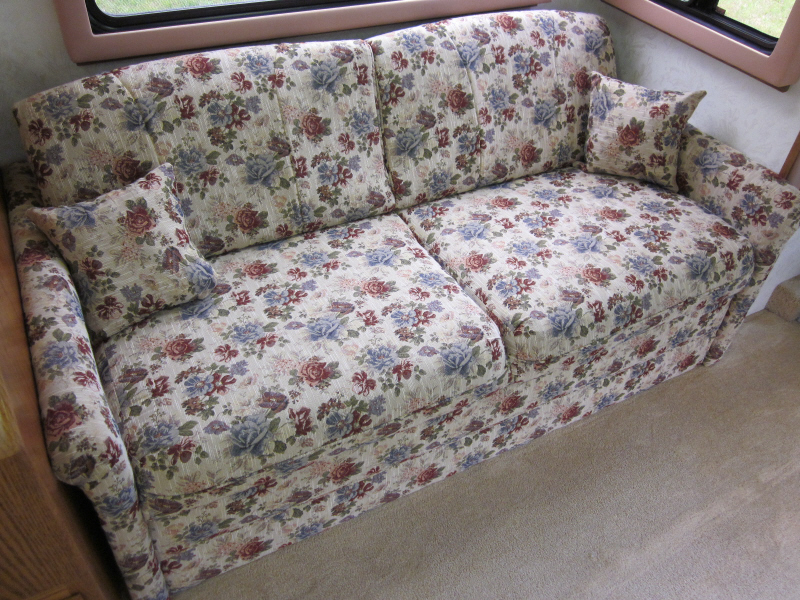 There is no wear, no threads out of place, no stains, and no flaws of any kind. This is a very strong high quality tapestry fabric.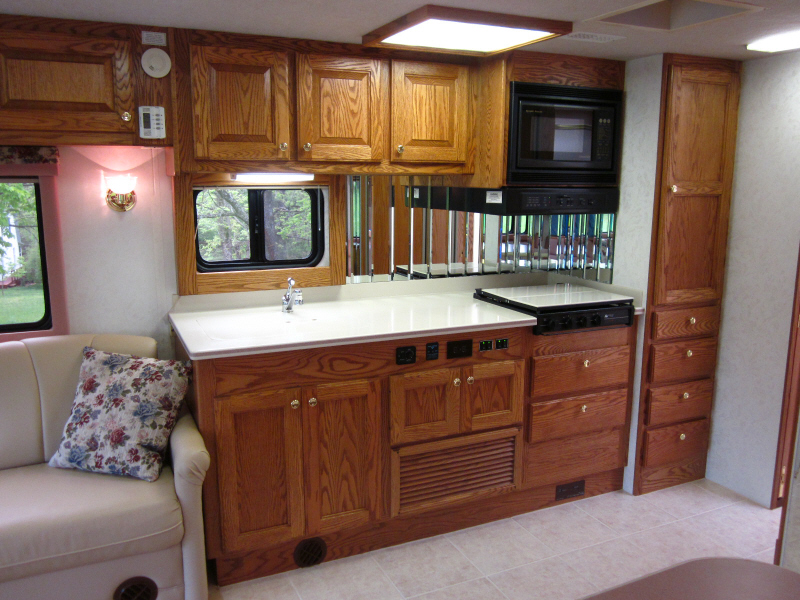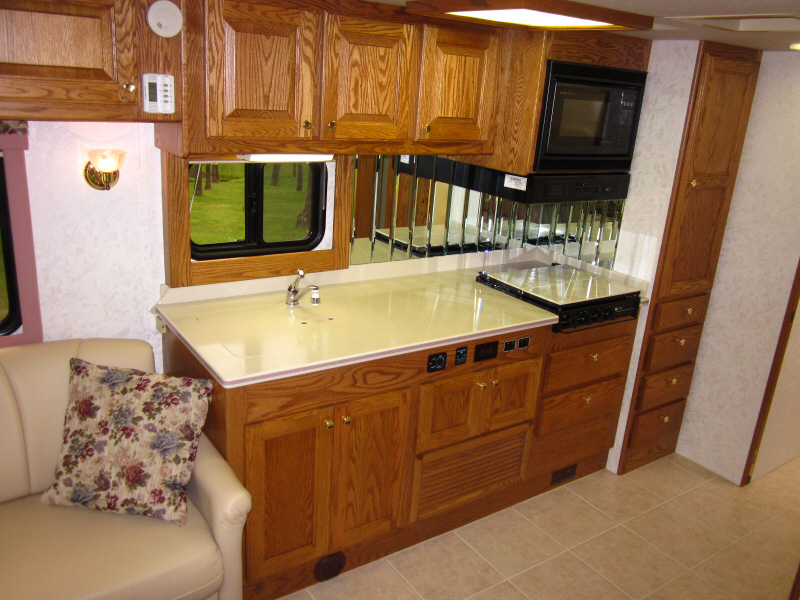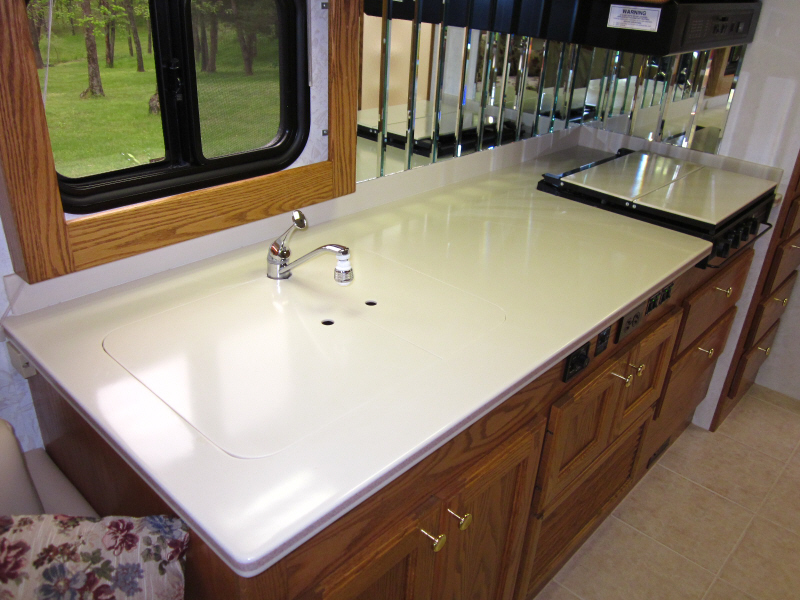 Real Corian countertops.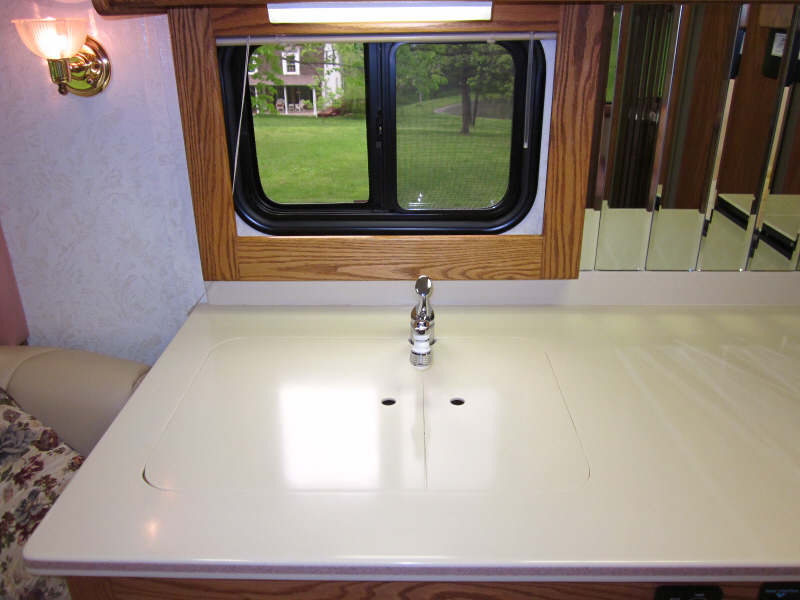 The sink and stovetop both have real Corian covers to add to counter space when desired.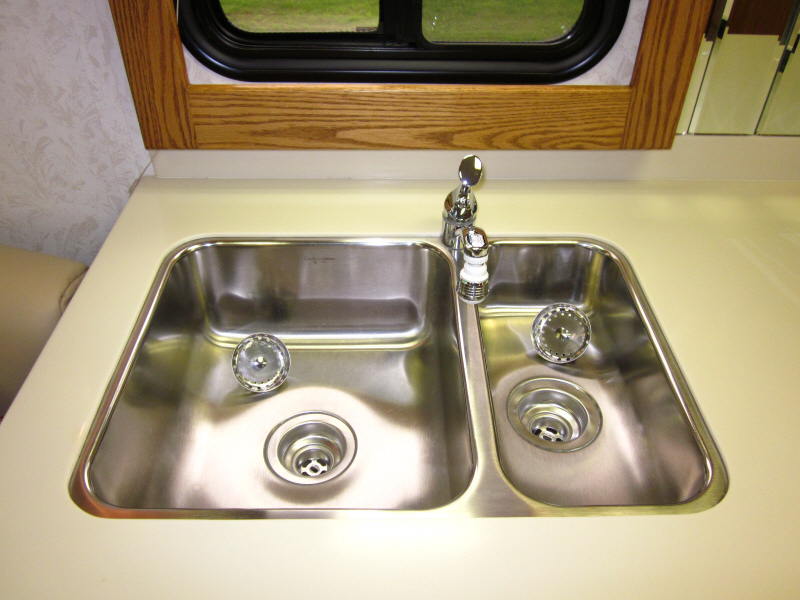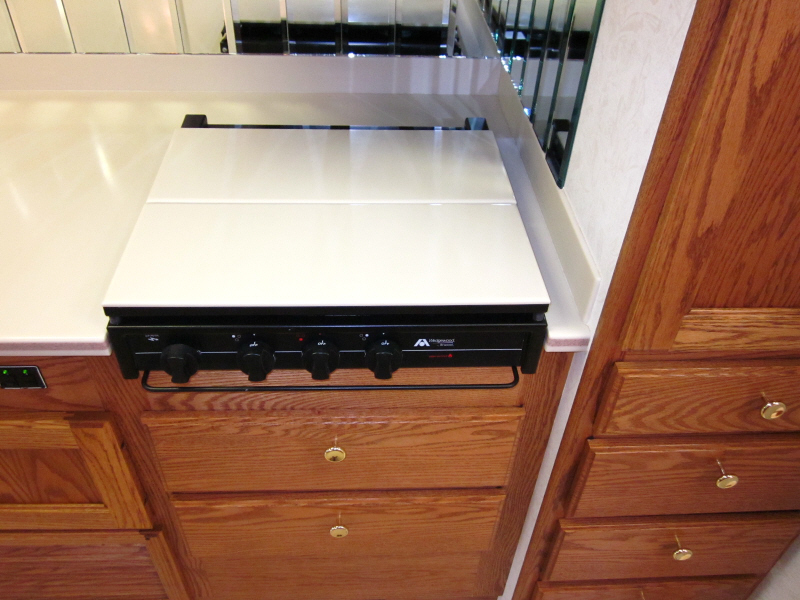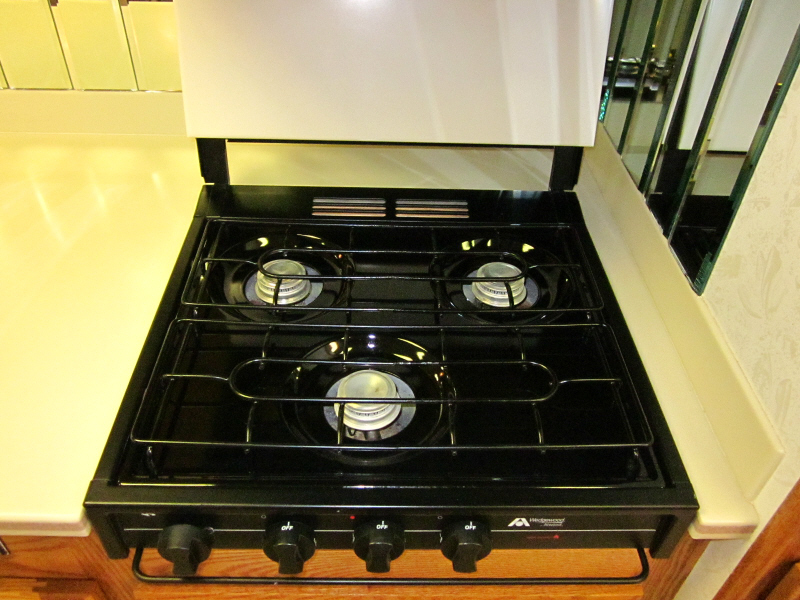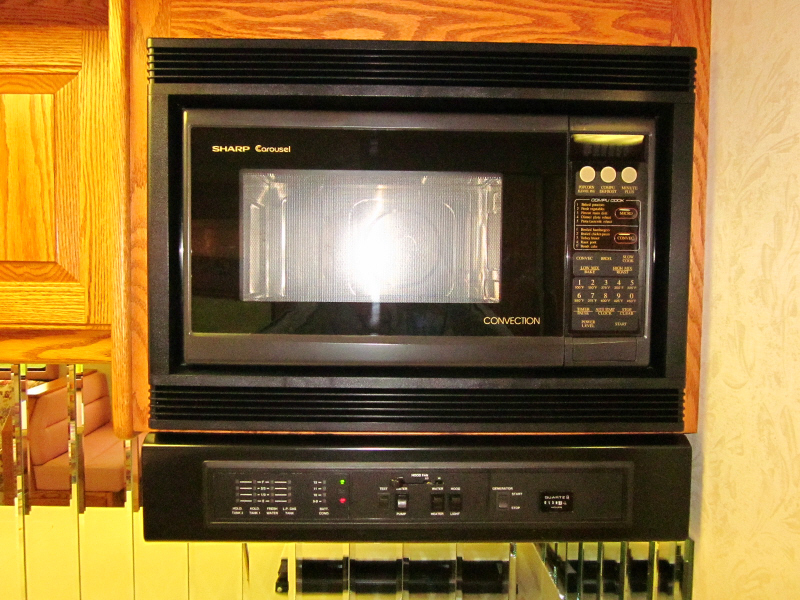 There are holding tank monitors on the hood vent, as well as the water pump and water heater controls. You do not have to manually light the propane water heater -- just flip the switch to turn it on and you can leave it on all the time if you wish. There is a propane sniffer built into the coach that will automatically shut off the propane at the tank if a leak is ever detected in the interior. I have never had a motorhome before that had this feature but I really like it.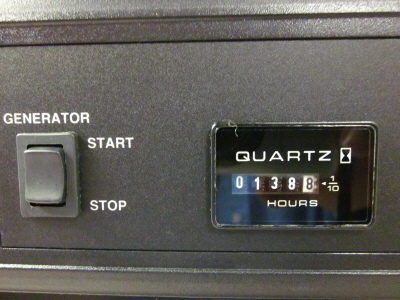 The hour meter for the diesel generator reads just 138.8 hours. It seems to work right and adds hours when it is running. However, there is another hour meter mounted on the generator itself that reads higher. I have not used a stop watch to see which one is right. By either meter, the generator has extremely low hours.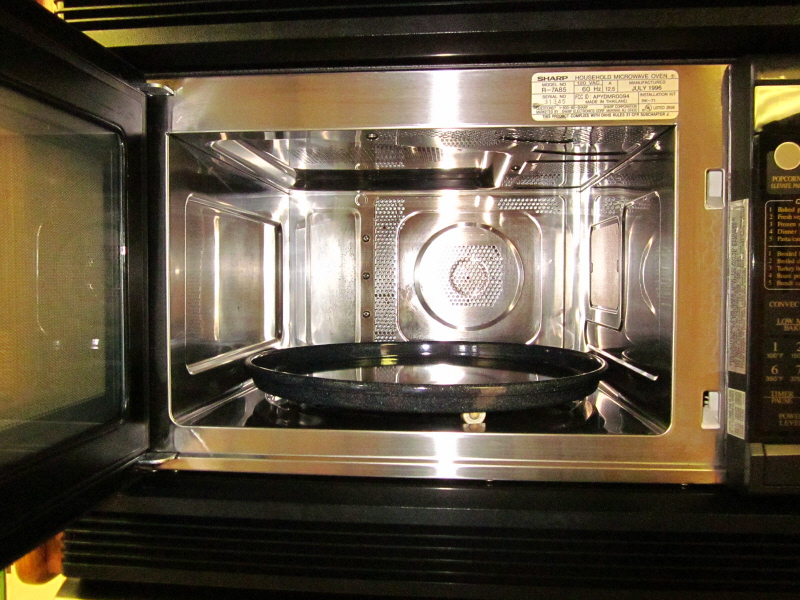 There is a microwave convection oven that can cook and brown anything in half the time of a conventional oven without making meat into rubber. It can also cook just as a conventional oven (with heating elements) or as a stand alone microwave. We've only had occasion to make some cookies in it and they turned out perfect. There are other racks and accessories, as well as a cook book with complete instructions, located inside the pantry cabinet.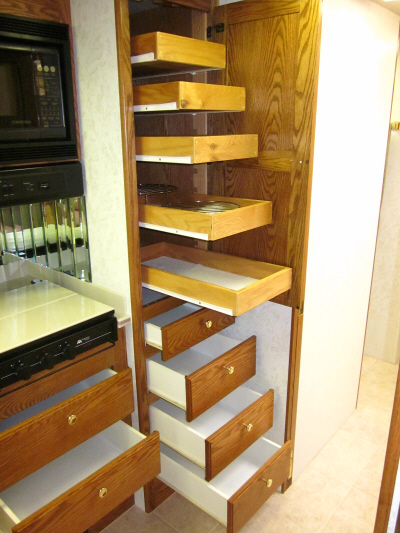 Here is the pantry cabinet. It has custom built-in sliders. It was too deep and narrow to be practical without them.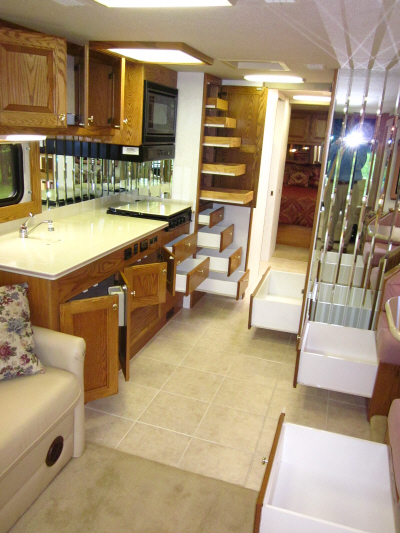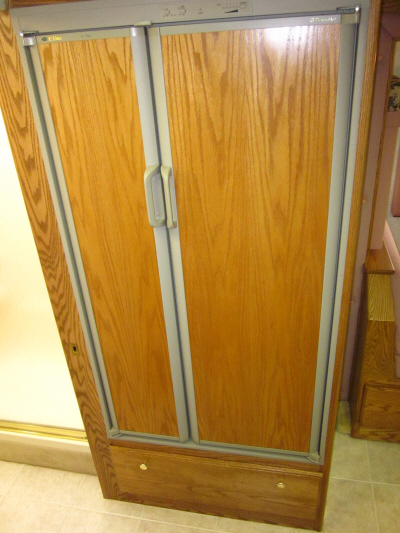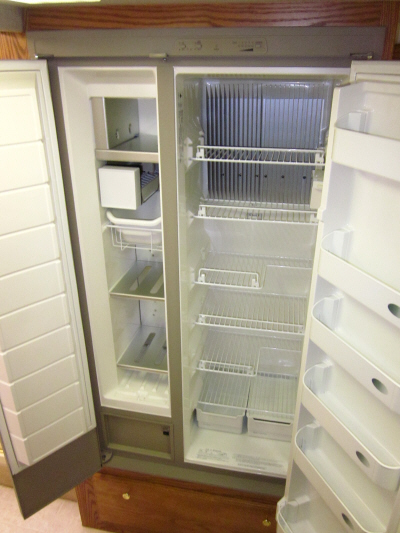 The side-by-side Dometic Elite refrigerator was optional as was the built-in ice maker. This has twice the space inside as a standard RV refrigerator.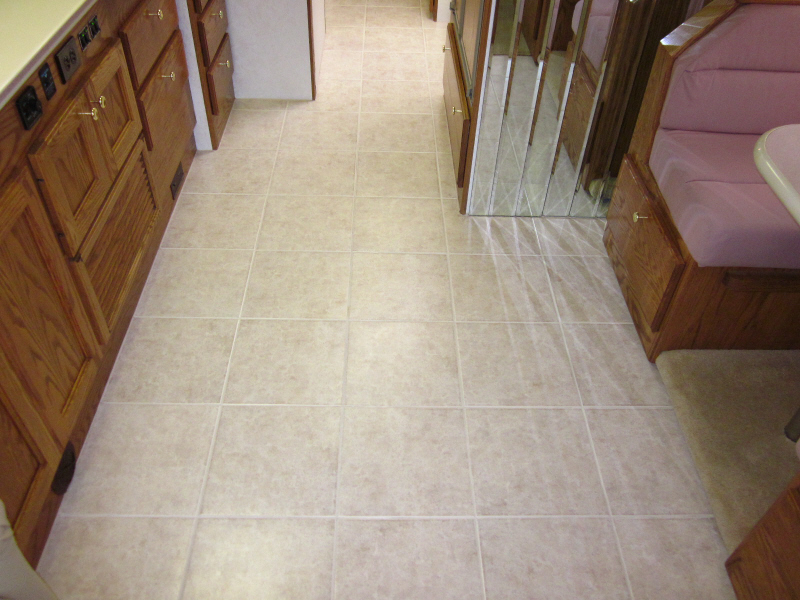 The beautiful neutral colored tile is all perfect without the slightest crack. The grout is completely beautiful without any stains whatsoever. It looks like it must be epoxy type grout (which is supposed to be impervious to moisture and stain-proof).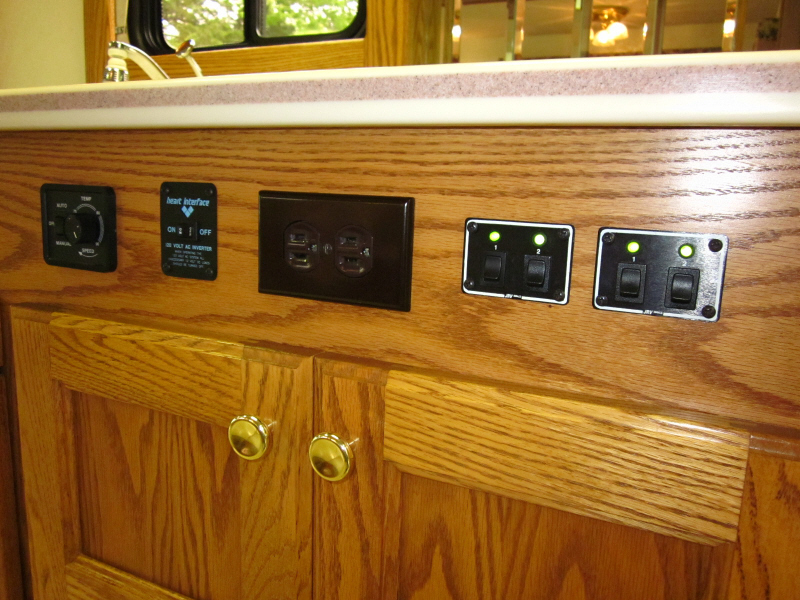 Light switches and the controls for the inverter and the overhead "Fantastic Fan".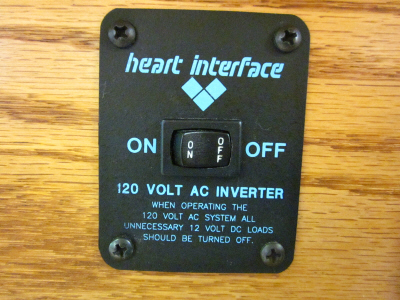 Just turn this on and you have AC electric current to all of the outlets, the TVs, the oven, and everything else except for the air conditioning (you must start the generator to run that).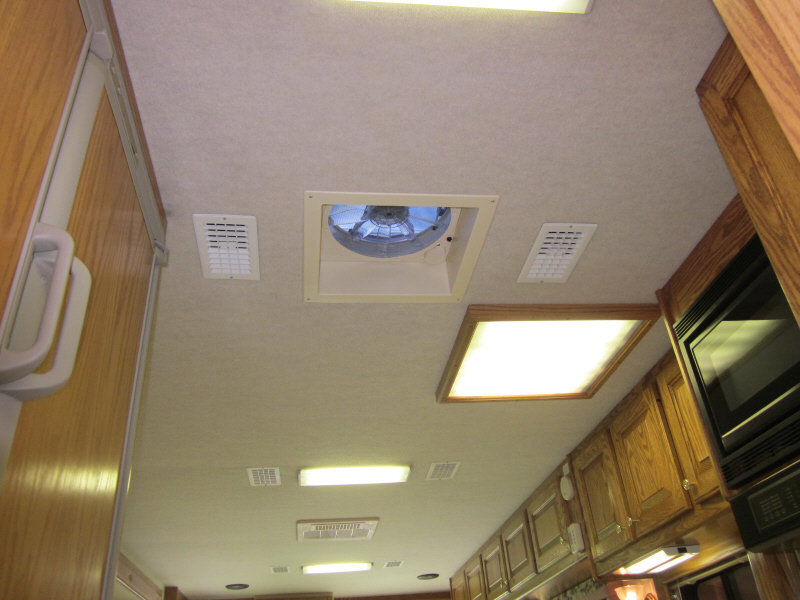 The headliner is all perfect throughout the coach and still looks brand new.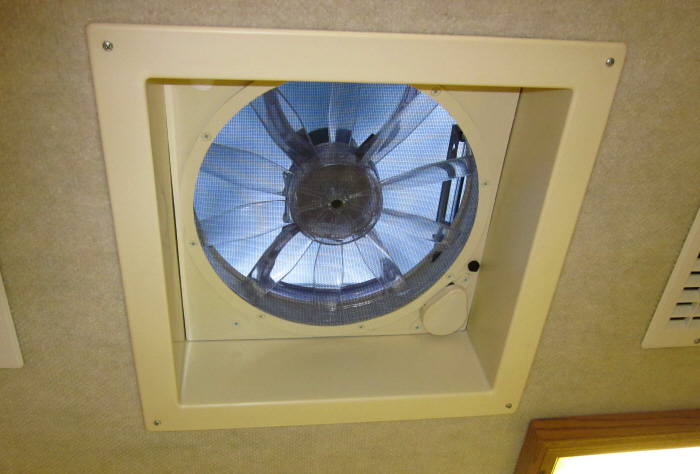 This is the upgraded fantastic fan with the automatic rain sensing feature (it closes if it starts to rain). It also looks brand new.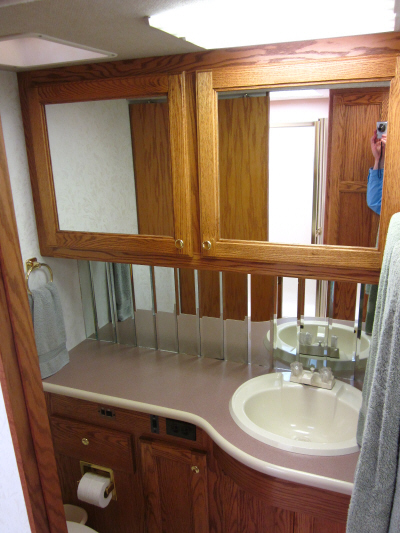 Notice the counter space in the bathroom. Most 36 ft coaches have tiny bathroom counters but not this one. The sink is big enough to actually use. There are double ceiling fixtures for extra light. Also, those mirrored doors above open to a huge and deep storage area/ medicine cabinet. Even our house does not have this much storage in the master bathroom. The floor plan is a "split bath" design with 3 pocket doors. It is my favorite setup and I doubt I will ever find another coach with everything I want including this bathroom. The huge benefit is you do not have to walk through the bathroom to get to the bedroom. Someone can be using the bathroom and other people can walk around the coach freely. When you take a shower, however, all you do is close both of the oak pocket doors (which are beautiful by the way) in the hallway and "presto" you have a huge bathroom with privacy.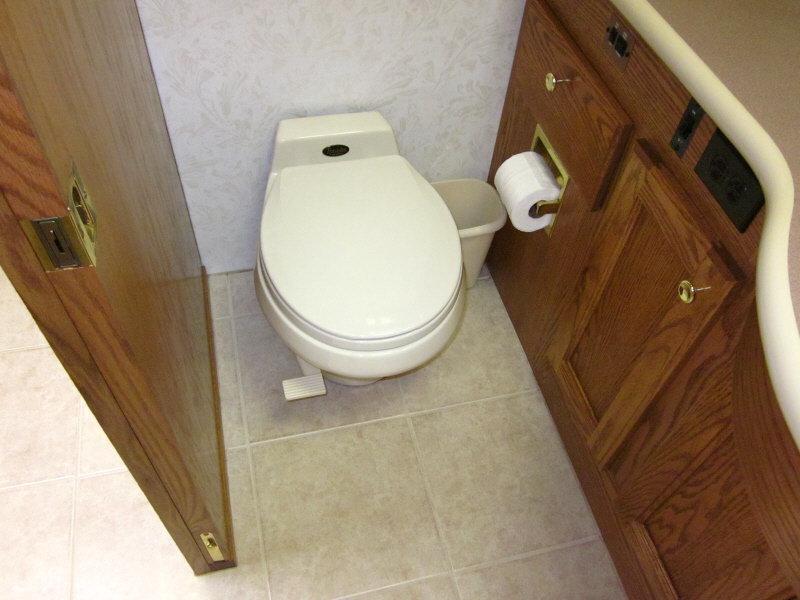 Porcelain Sea-Land toilet. Notice how the proportions in this coach are all generous. There is lots of floor space and wiggle room in the bath and walkways.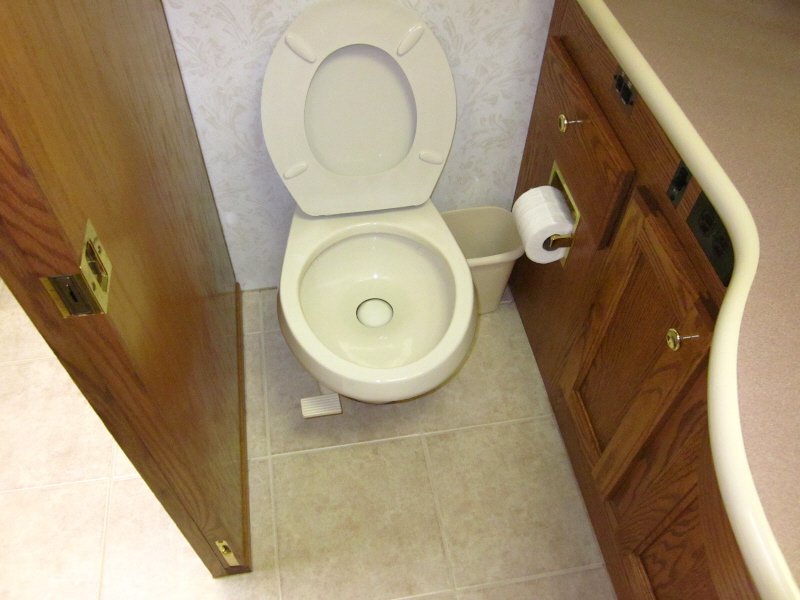 The toilet bowl seals are good and it holds water. This is an indication that no smells will creep their way into the interior of the coach.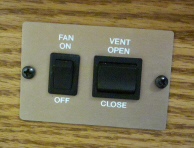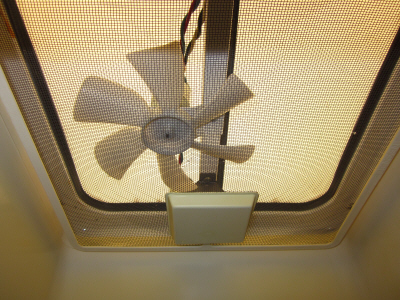 There is a control panel right next to the toilet which remotely raises the vent above and turns on the exhaust fan.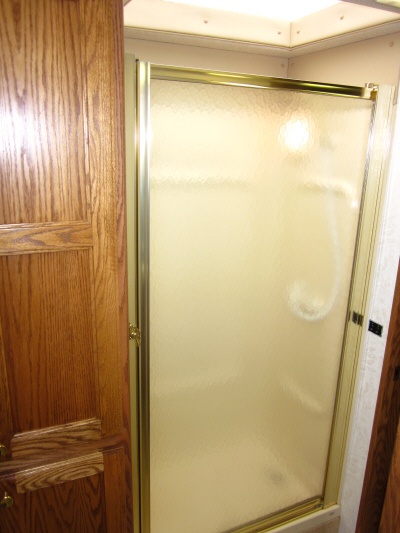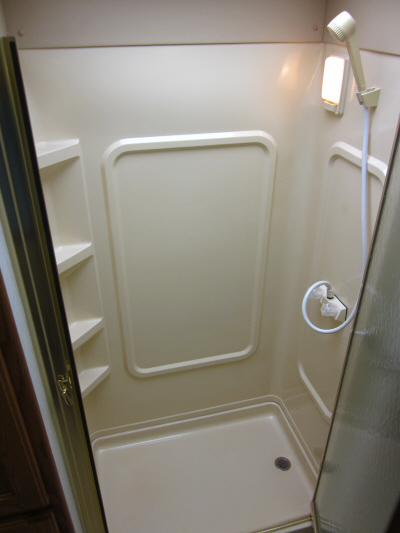 The shower has a glass door, a skylight above, and lots of room. It is sparkling clean and new looking.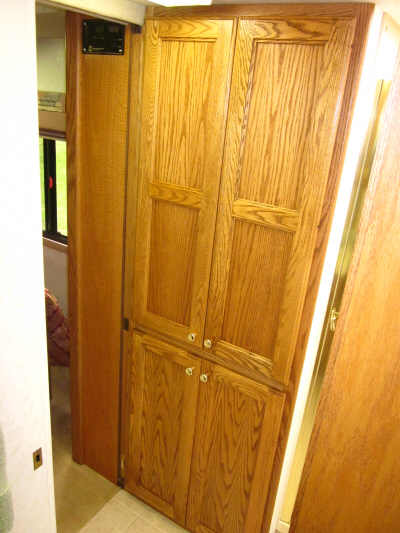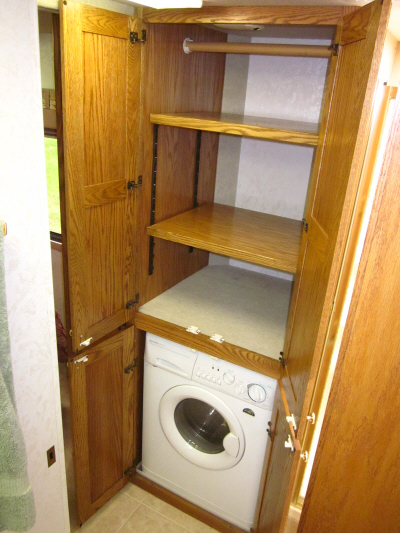 There is a big linen closet or clothes closet in the hallway (integrated with the bathroom when the pocket doors are closed). There are shelves in there now but they can simply be removed in order to hang clothes if desired (there are also two closets for that in the bedroom). Down below there is a washer/dryer combination. It is newer than the coach. When my neighbors bought the motorhome they never imagined needing a washer/dryer but for some reason they had one installed later on. It looks like it has been very lightly used. There is a 10 gallon water heater so the coach was already pre-plumbed for this option.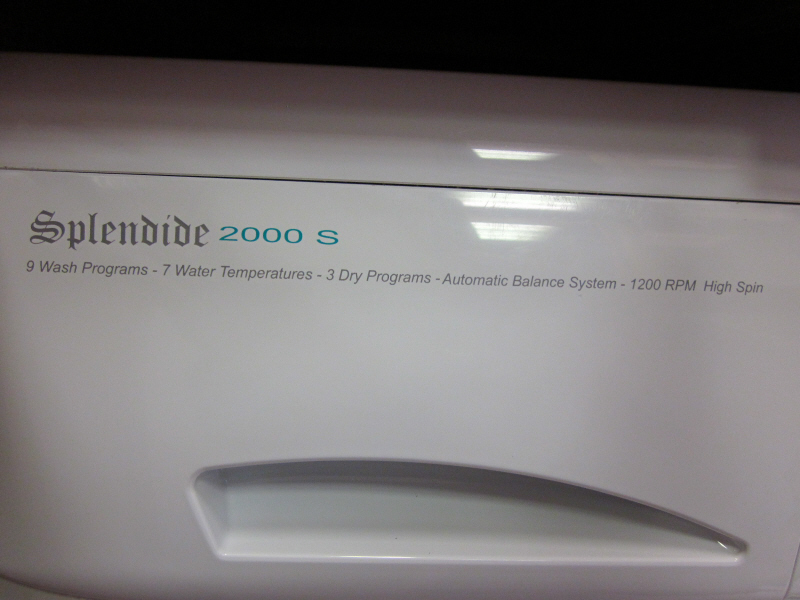 This model has a condenser in it which dries the clothes much better than most RV dryers. It extracts moisture out of the clothes and uses some heat as well to keep clothes from being wrinkled (it is still vented-- not "ventless"). The condenser works much like an air conditioning compressor and is a very modern design for dryers where 220 current is unavailable.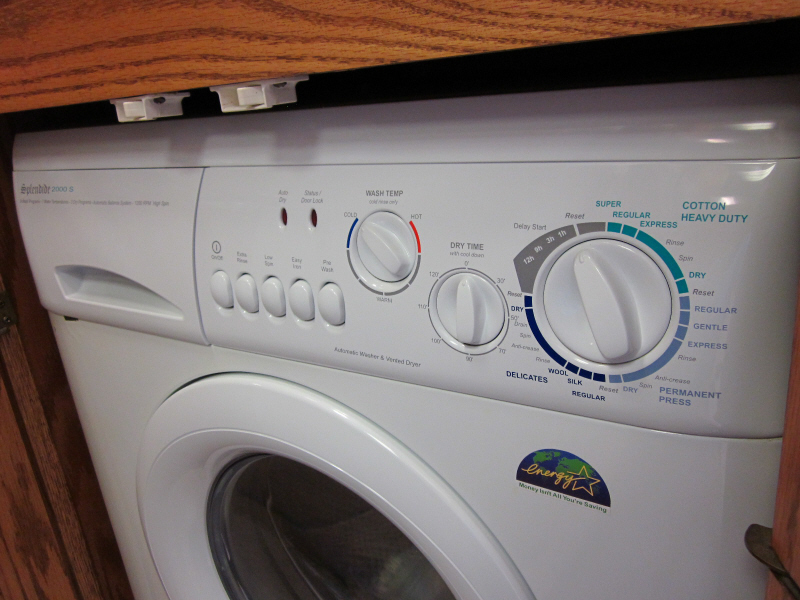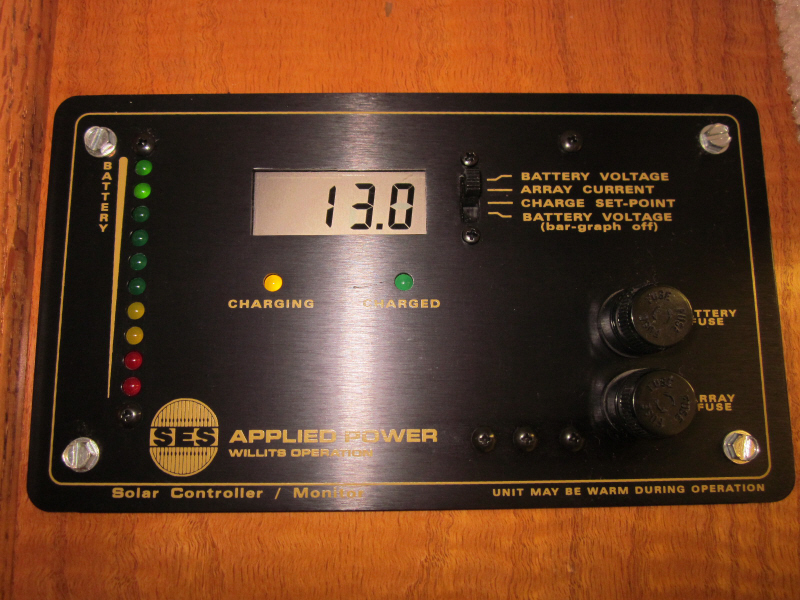 Up on the wall there is the solar panel regulator/monitor. This was installed at a cost of $1118 (receipt included). There is a limited 25 year warranty on the panels which are substantial units. They provide 100 watts/ 30 amp hours per day into the batteries. This greatly extends dry camping without running the generator.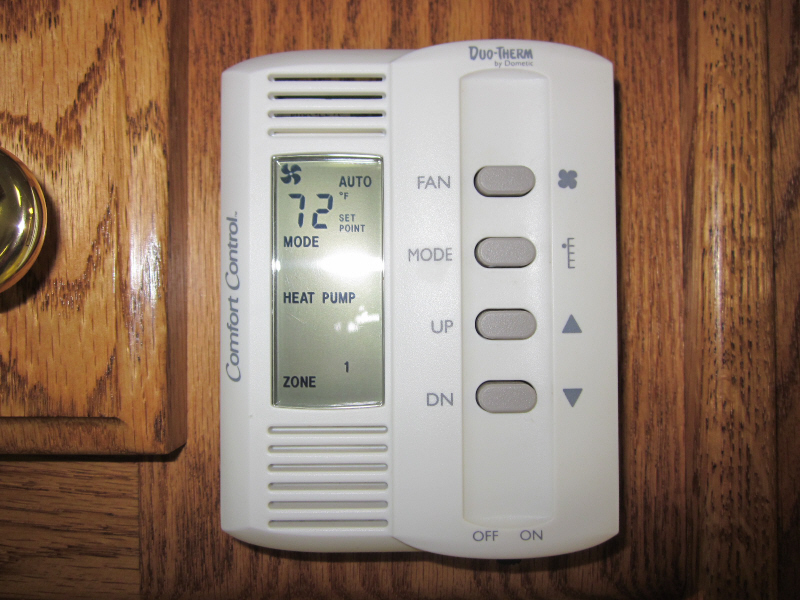 There are two heating and cooling "zones" and the ducted air conditioning is extremely effective and quiet. Both air conditioners have heat pumps to allow you to heat the coach with electricity (shore power or the generator) instead of using the gas furnace. This way you can take advantage of the electricity you may be paying for if you are staying in an RV park. We almost never do that type of camping because we like to be out in a forest somewhere. This coach is nice for that purpose ("dry camping"="without hookups") because it holds lots of water and has giant batteries to last a long time away from civilization.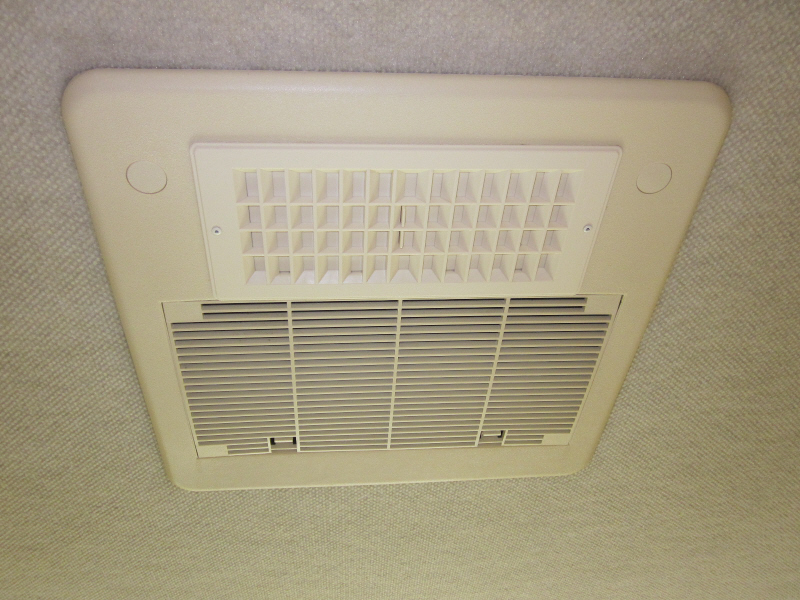 This is the only thing you see in the ceiling beneath the roof A/C units. It is the air intake. The filters are perfectly clean and still look new.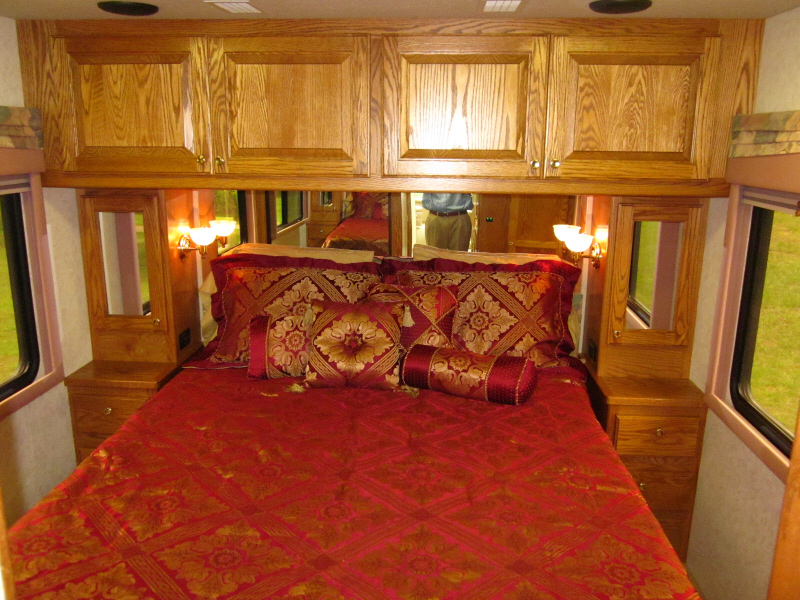 The bedroom has a very nice queen sized bed and tons of storage (even under the bed). It is very beautiful in here and the windows are huge. You can lay in bed and look out. The bedding comes with it, including an extremely comfortable foam topper (this bed is more comfortable than the one in our house). There is another bedspread included (the original one that came with it -- still in excellent shape) but my wife likes this one better. She has just washed all the sheets and so everything is fresh for the new owner.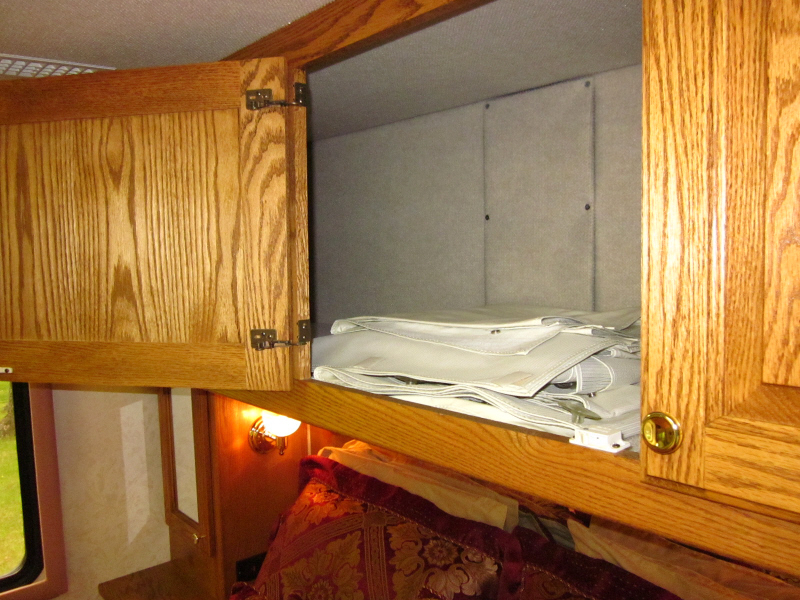 You can see the overhead cabinets are big and deep. Notice all of the hinges in the coach are hidden (you only see them when you open a door). There is a set of interior windshield sun shades included as shown in this picture. They still look new to me. They are designed to go up on the front windshield to block out the sunshine but still allow you to see out and have a nice view. They also prevent others from seeing in.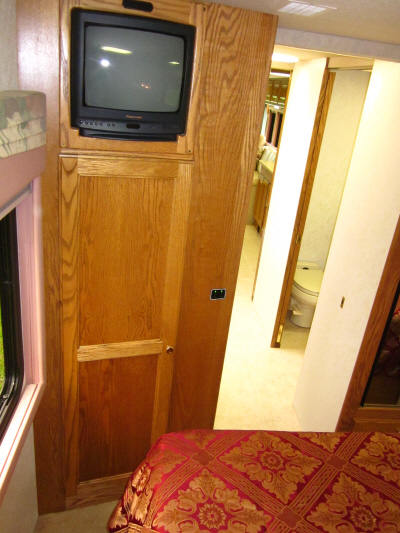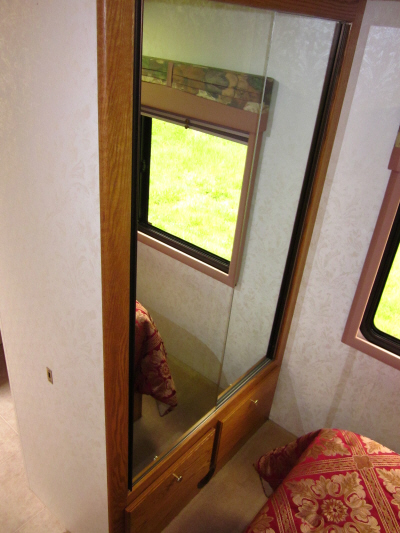 There are two additional storage areas, one full length clothes closet with mirrored sliding doors and two large drawers underneath (pictured at right) and one oak closet (pictured at left). The oak one has a bunch of carpeted shelves in it. There is also a TV. Both TV sets and VCR have remote controls and everything works fine. There is also a built in feature that re-broadcasts the signal for the VCR from the bedroom to the front of the coach so you do not have to get out of bed to do anything (there is a big TV up front that is also connected to the same media cabinet). The system will rebroadcast the signal for any optional audio/video equipment you wish.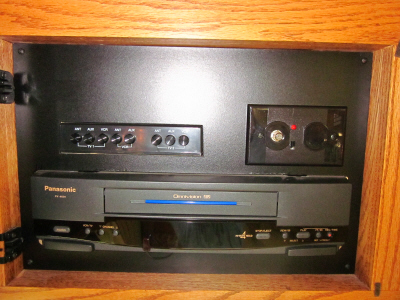 This is the media cabinet up front above the driver's seat. You may want to change out the VCR for a DVD player. We do not watch much television on trips and the original owners did not either, so everything is still exactly as it was when the coach was delivered new. This has all been tested and works fine.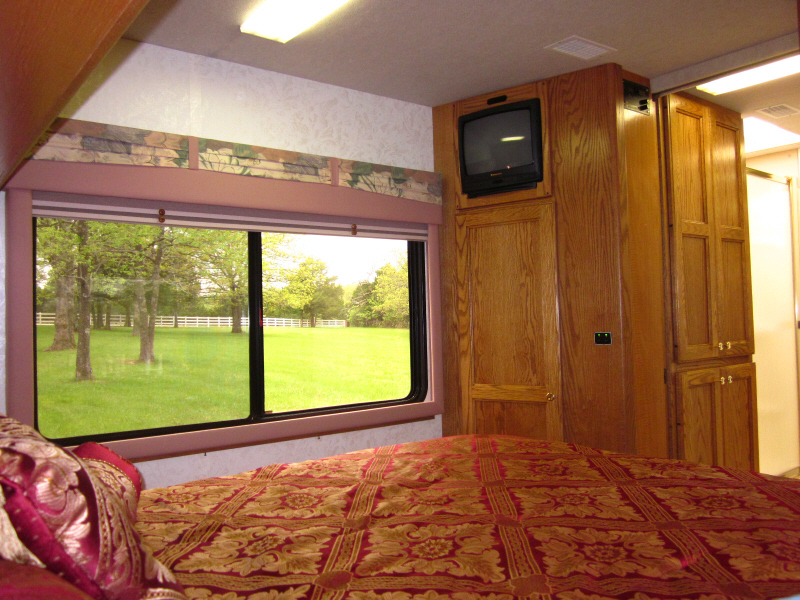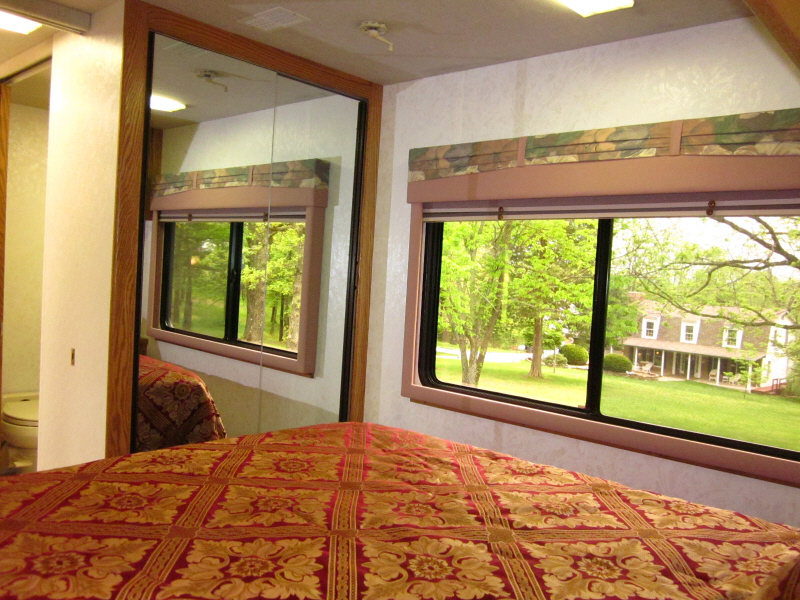 Now I will show you the driver's area: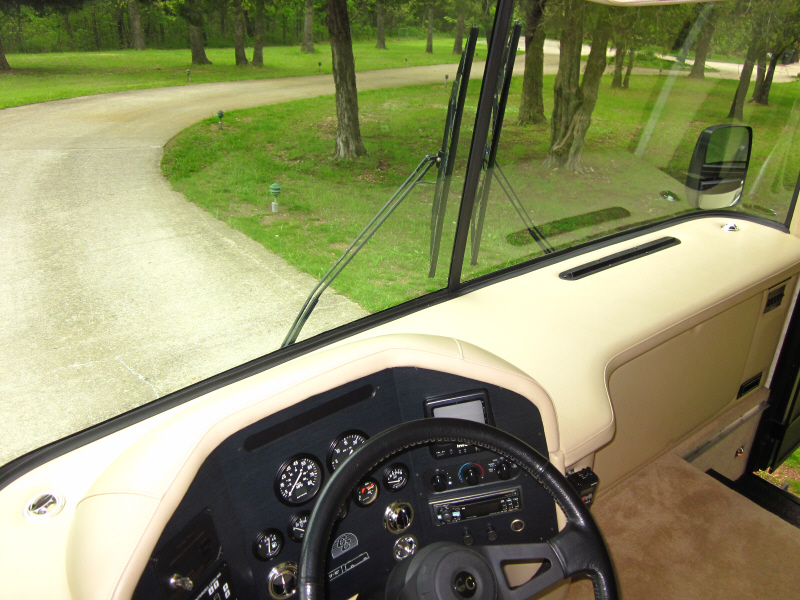 Perfect dashboard with no fading or sun damage.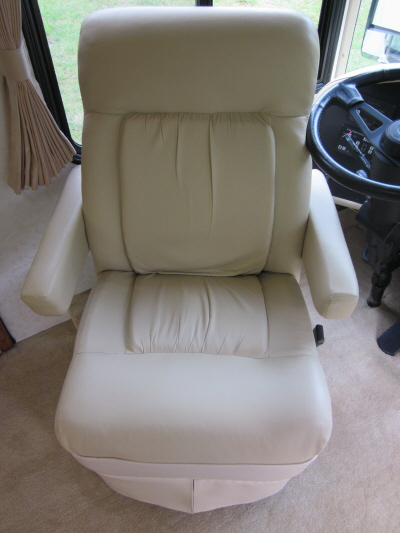 Both front seats are in mint condition. They are super soft and comfortable "Ultraleather".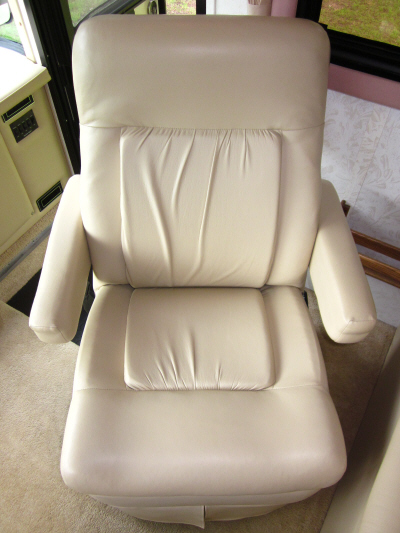 Both swivel, recline, and have 6-way power adjustments.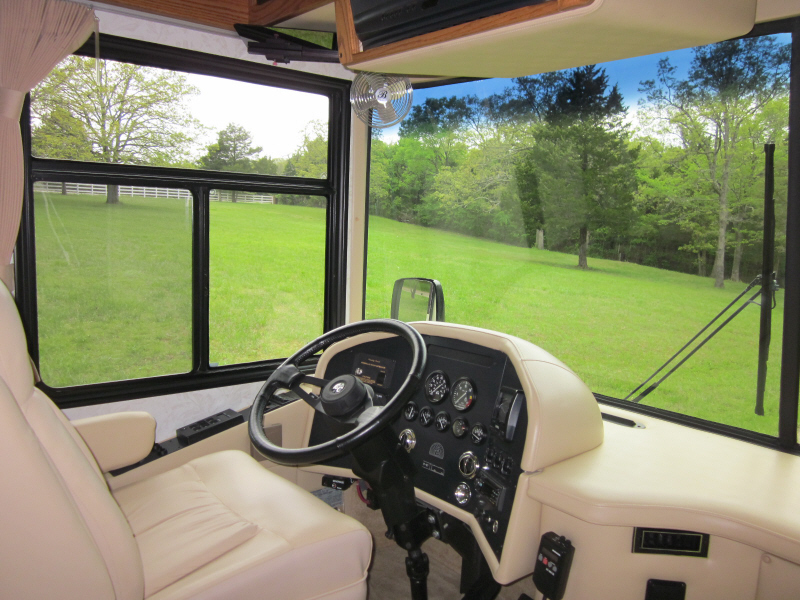 You can see the huge windows for the driver's view.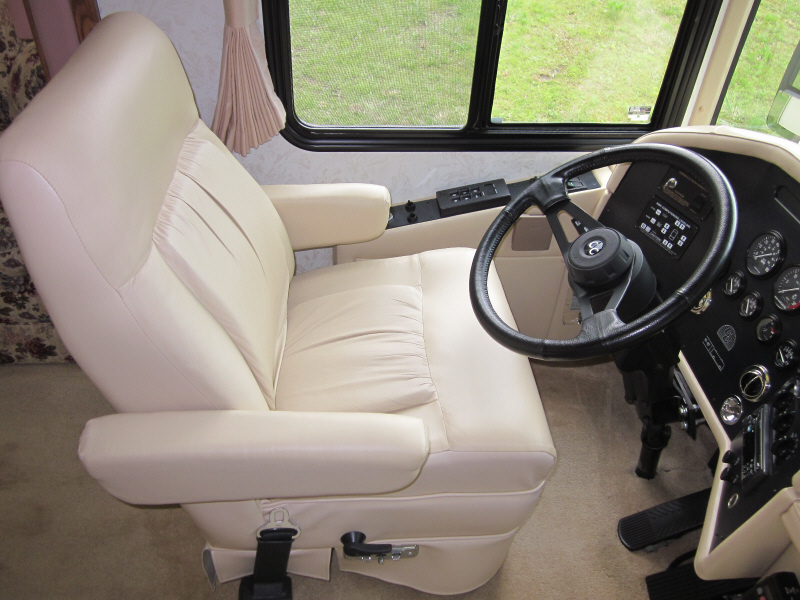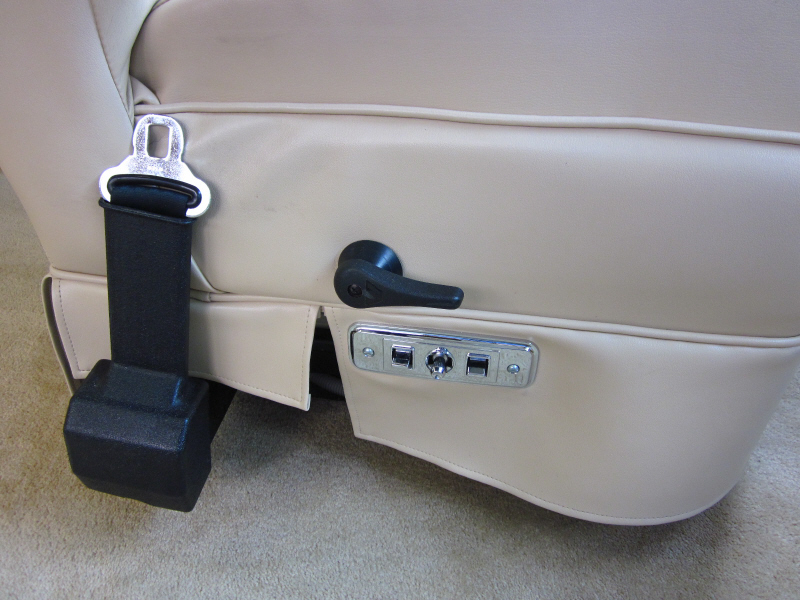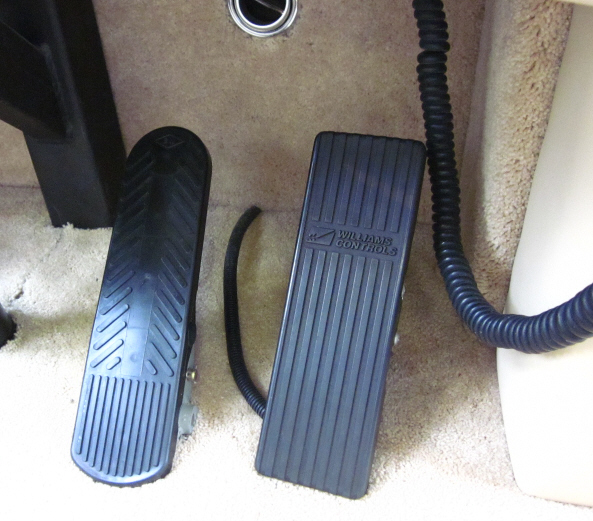 You may be interested to know that this version of the 8.3L Cummins is an electronically controlled engine. The accelerator pedal is "drive by wire", meaning there is no throttle cable going all the way to the engine compartment.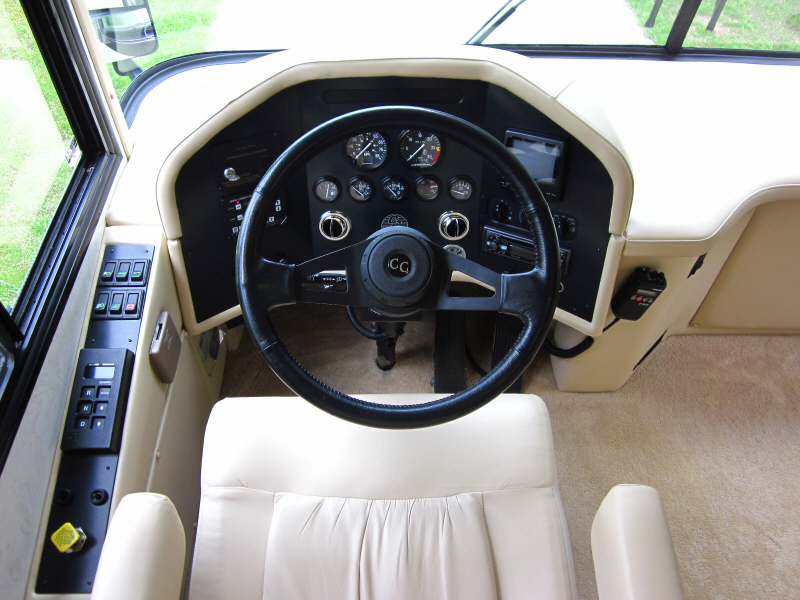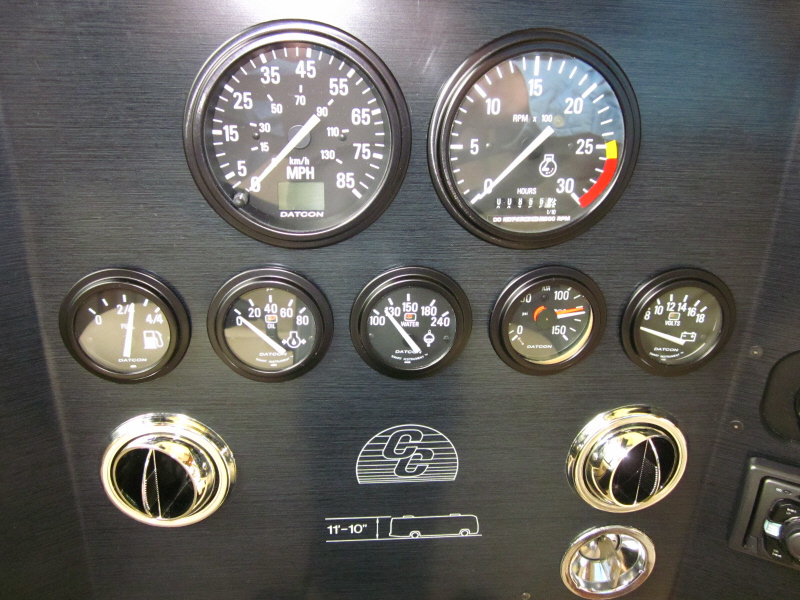 The air conditioner up front still blows ice cold and the amount of air the comes out all of the many vents is quite phenomenal. The full set of gauges all work fine. The volt light on the battery gauge flashes red for a minute or two when you first start it but then goes away. There are no leaks in the air system and it keeps the air in the airbags after you turn it off. The engine always starts the very second that you turn the key even in the winter time with no starting aids at all.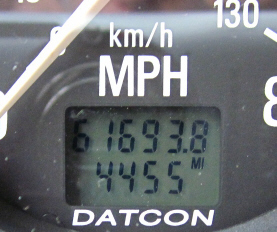 61,693 original miles since new.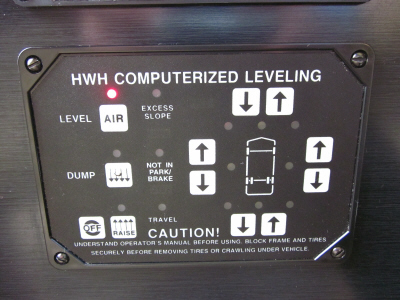 Just press the level button twice and the coach automatically levels all by itself with no help from anyone. You can also do it manually.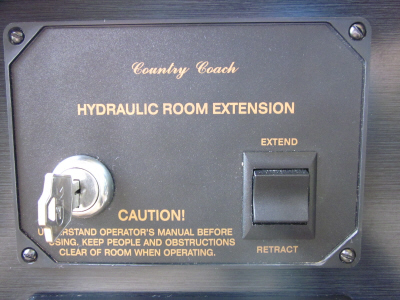 This is the control for the hydraulic system that extends the slide-out. It has a key which is a nice feature so you can remove it if you have kids or otherwise do not want anyone to move the slideout. When you turn the key on, a recorded voice comes over the speaker system warning people and the [seemingly nice] man gives a safety check list before moving the slide. However you do not have to wait for him to finish speaking; you can press the button immediately after turning the key.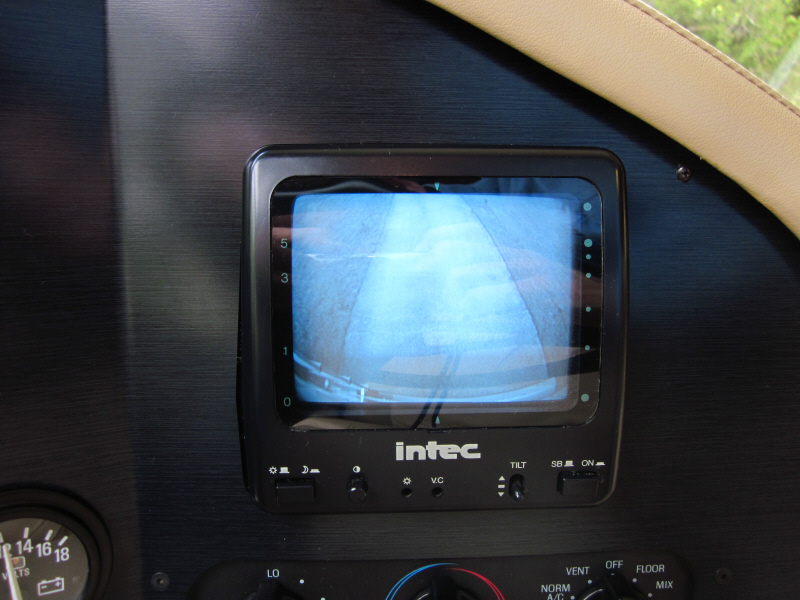 Rear vision camera has a very clear picture and turns on automatically when the transmission is placed into reverse. You can also turn it on all the time if you wish.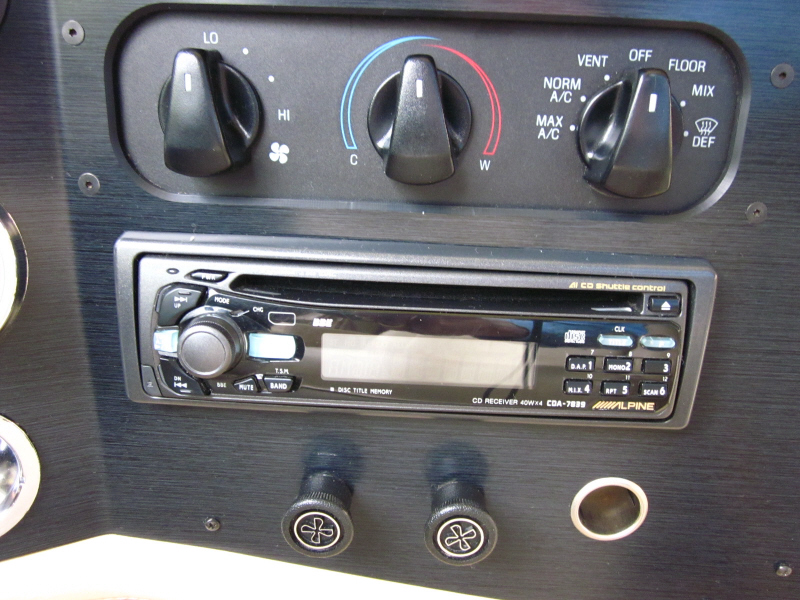 Like I said the A/C up front (and the heat) works great. The CD stereo sounds great and is wired to the coach batteries so it does not drain the engine starting battery. There is a 12 volt receptacle (lighter plug) on the dashboard, but it has never been used to light anything (never any smoking in this coach).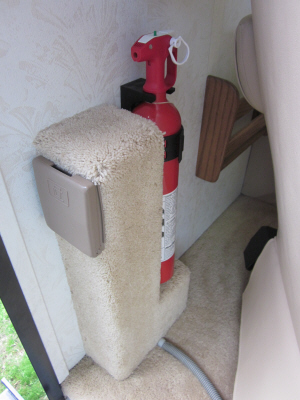 There is also a commercial type adjustable cup holder like those found in big rigs. There is one for the passenger seat too.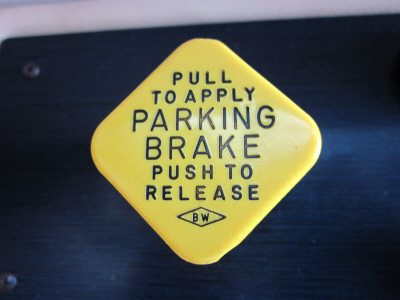 The Maxon CB radio is was installed at the factory (it is not an add-on accessory).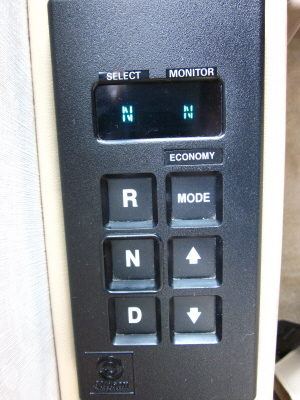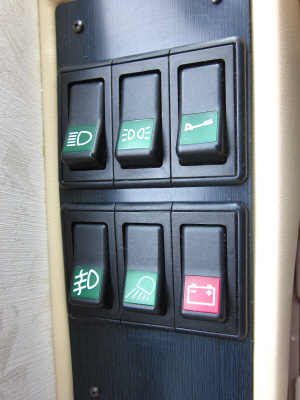 It is the easiest thing in the world to operate the transmission. Reverse, neutral, and drive are all you need to know. You can manually change gears and check fluid levels and all kinds of things but you do not need to know what the other buttons do unless you are interested. It is all electronically controlled and very smart. It is also smart enough to prevent you from damaging the motorhome. It will not allow you to over-rev the engine. If you wish to use the transmission to slow the coach down a hill, all you have to do is switch on the "Pac-Brake" exhaust brake. It controls the transmission as well. I normally leave the exhaust brake on when I am driving around town. It does not make noise outside like a "Jake Brake" does, so there is no problem with city noise ordinances. The second you let off the accelerator, the transmission downshifts and the coach slows right away without the service brakes.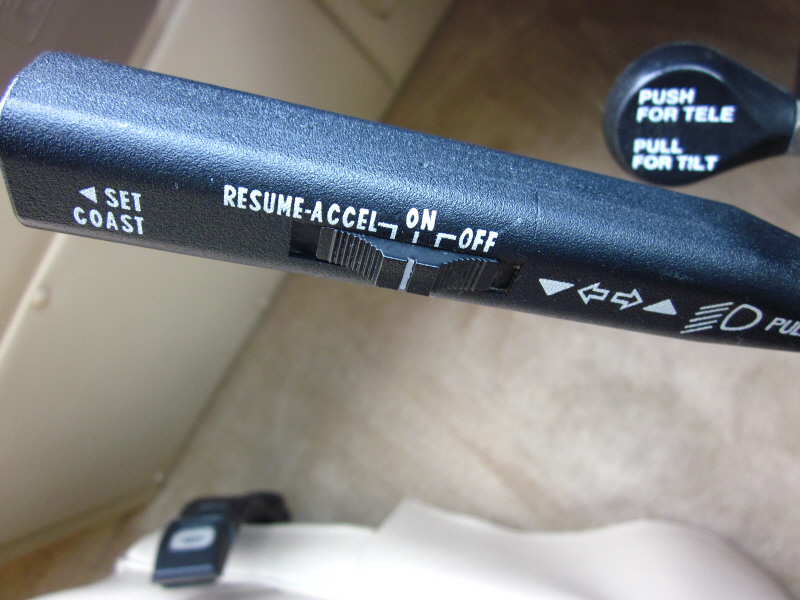 The steering wheel both telescopes and tilts to accommodate both tall and short persons. The cruise also has the big rig feature of allowing you to idle the engine at a higher RPM if desired.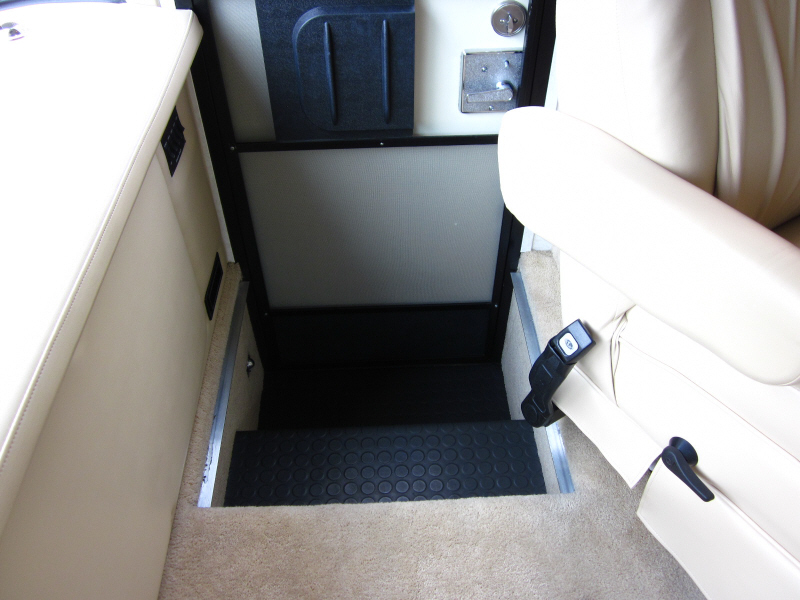 To prevent kids from falling down the steps while underway, and to allow the passenger to have a place to rest his or her feet, there is a cover for the step well that is operated remotely: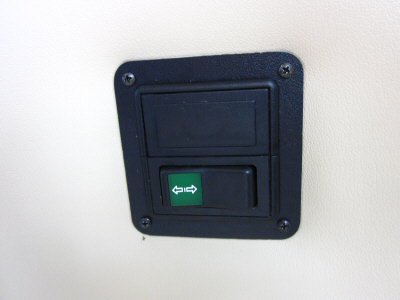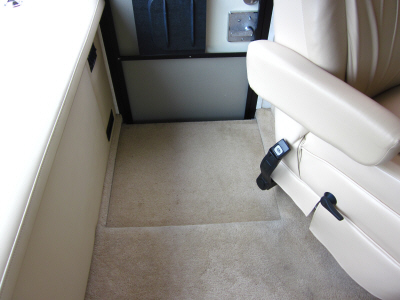 This switch moves the step well cover. Now I will take you on a tour of the outside compartments: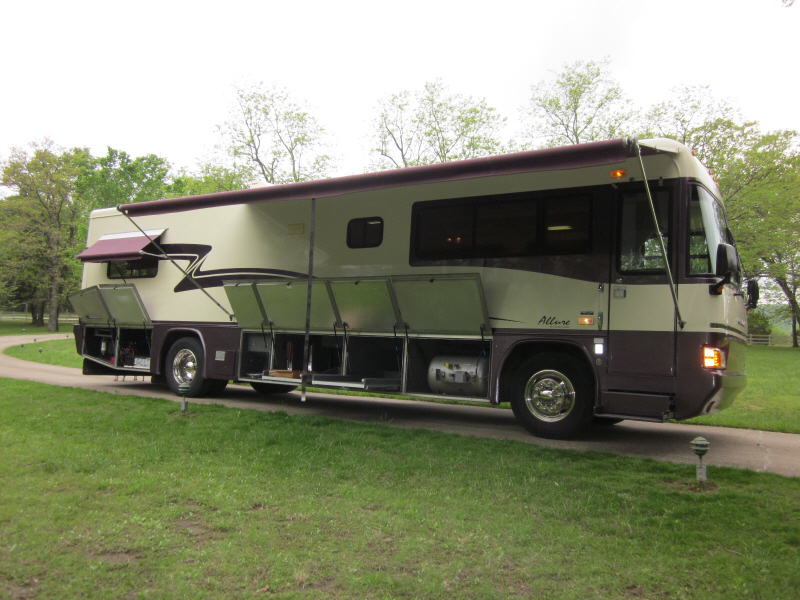 The awnings are all in perfect condition with no problems at all. The basement compartments are huge and you will not run out of space. The doors are very heavy-duty and thick with lots of foam insulation for extreme temperatures. This is a true "cold weather coach". You can go camping any time of the year. The propane tank (in the first compartment) is currently almost full. There is no rust on it or anywhere on or under this coach.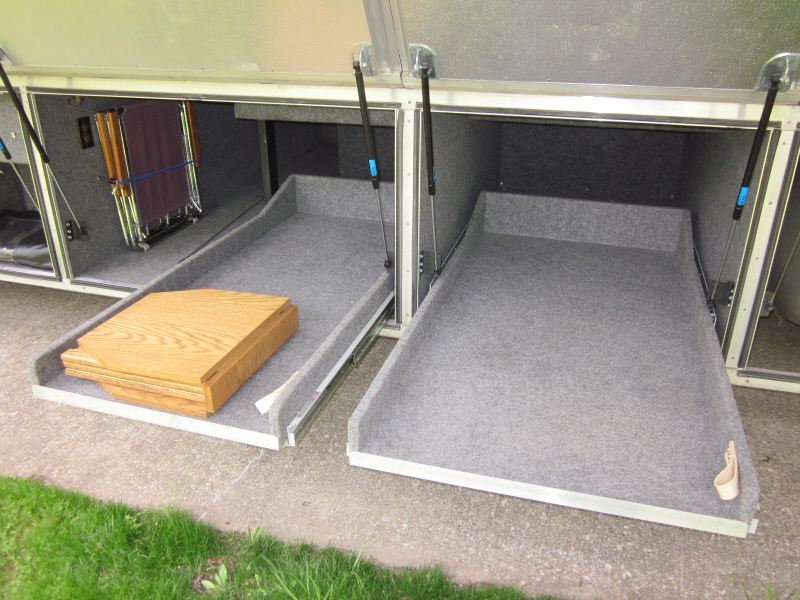 There are two large slide out trays made by "Kwikee". These are factory installed--not after market. The compartment on the left goes all the way to the other side of the coach for a big ladder. Also notice the coach has the "full awning package" which includes two matching folding chairs and a folding oak patio table, along with full Zip Dee metal-encased awnings on every window.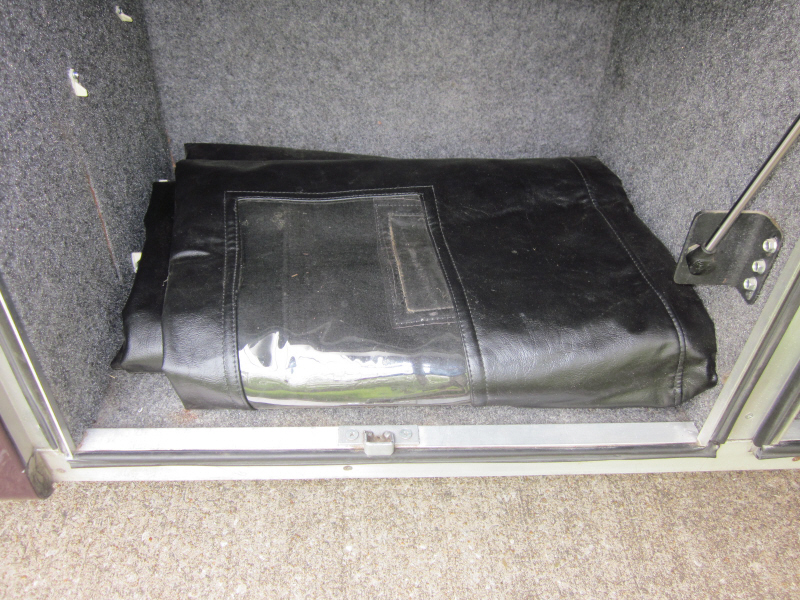 This is the front "braw" that is custom made for this coach to protect the front from road chips and bugs. It still looks new.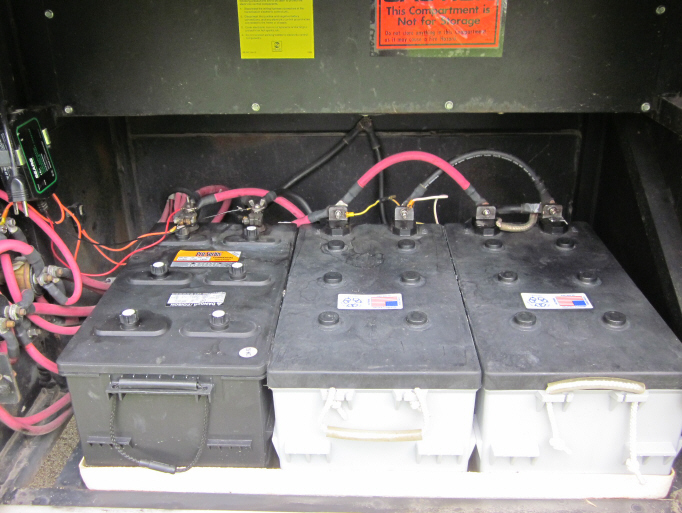 The batteries are enormous and in excellent condition. I have left the shore power unplugged in the garage for a month at a time and the batteries never lose any of their charge. However, this coach has a very sophisticated battery maintenance system that is supposed to make them last a very long time if you leave the coach plugged in to shore power, so we almost always leave it plugged in when in storage. The coach is equipped with a 2000 watt inverter that allows you to run the oven or TVs or just about anything in the coach (except the air conditioners) on AC power from these huge batteries. On the left you can see there is also a trickle charger installed that maintains the engine battery (the one on the left) while the coach is in storage.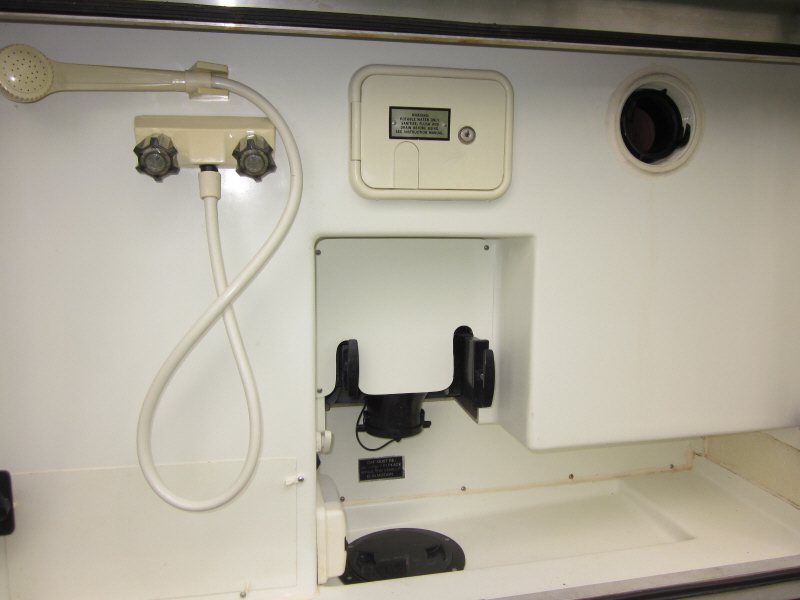 This is the insulated bay where you manage water and holding tanks. The dump hose is neatly housed in the hole at the top left. There is also a coach water filter and water pump accessible here at the bottom right corner. There is a built in water pressure regulator as well.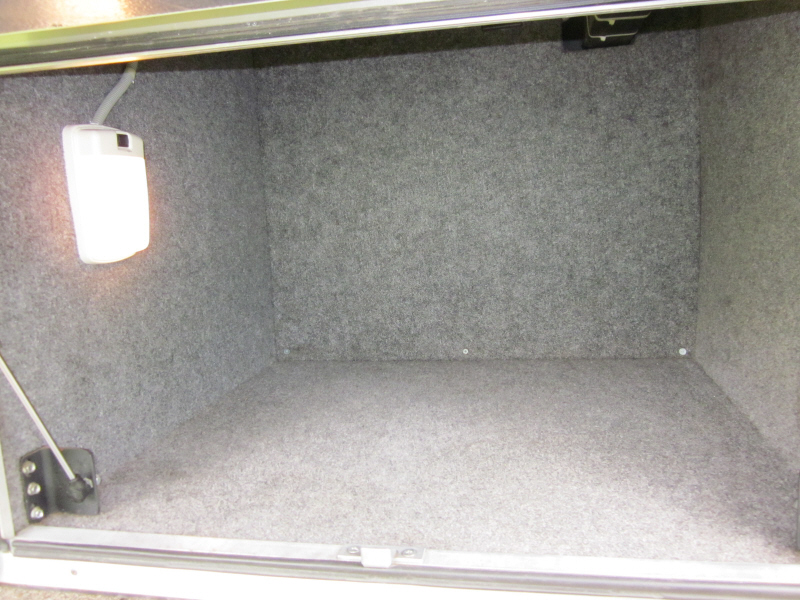 These compartments are located beneath the slide room. This is where I would normally place the big 50 amp power cord that comes with the coach (not pictured).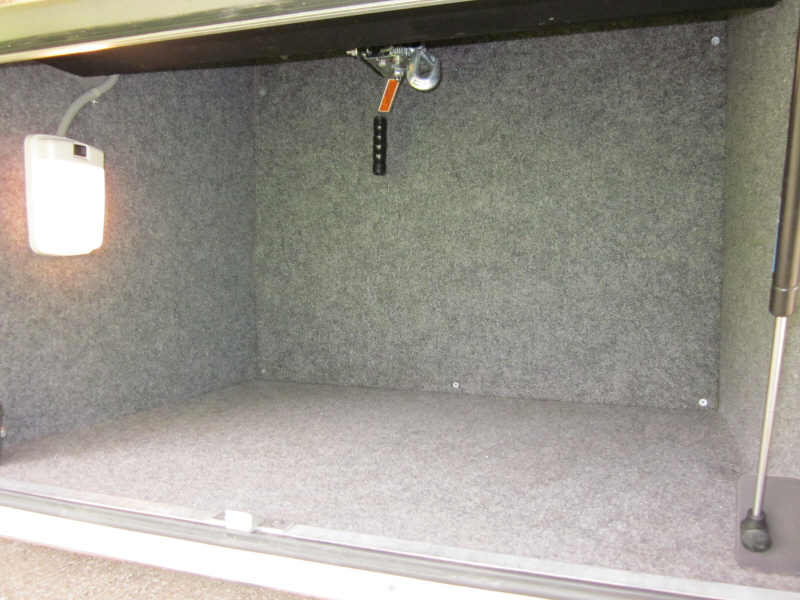 Notice the compartments all have lights.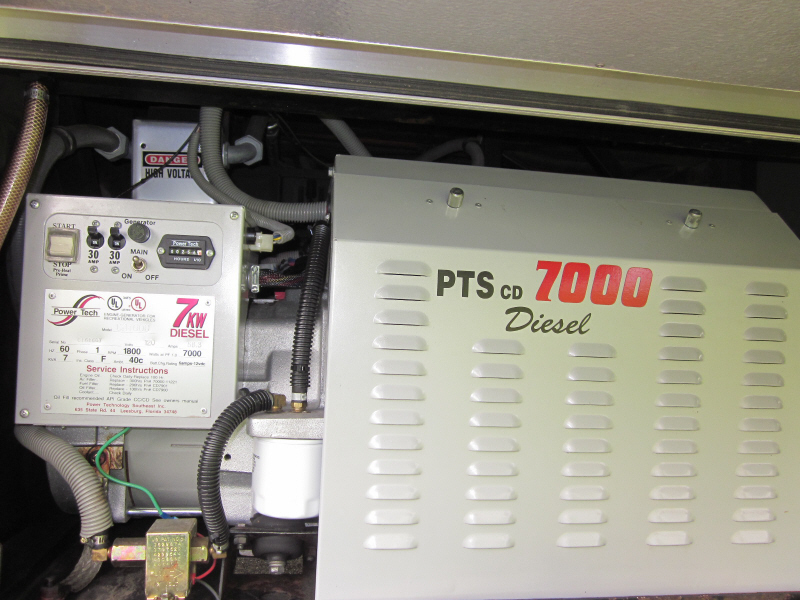 This Power Tech diesel generator rivals the Onan Quiet Diesel in sound (just 50 dB-A vs 59 for the Onan) and is supposed to consume less fuel per hour. It is used in many high line coaches instead of the Onan.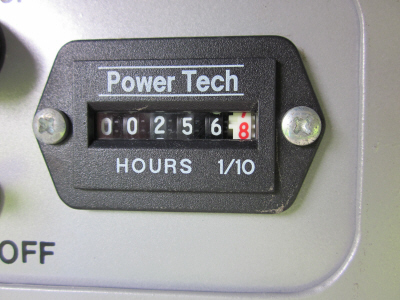 This hour meter shows more hours than the one located inside the coach, so one of them is not counting the hours with great accuracy. However, by either meter, the generator has very low hours and has hardly been used at all. It runs perfectly of course.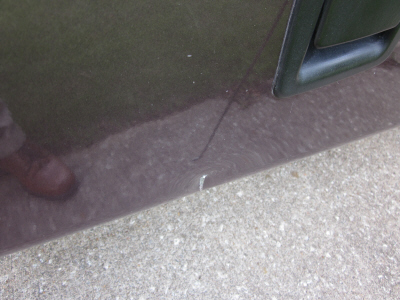 FLAW: There is only one exterior flaw that I can find anywhere on this motorhome. It is a small ding at the very bottom of the compartment door furthest aft on the passenger side. Other than that, I can't find anything negative to tell you about at all. The long vertical thing reflecting off the paint is not a flaw in the paint, but rather it is the metal "wand" I am holding in my right hand (used for pulling out the awnings). This is the end of the tour of the outside compartments. There are a couple more also but they are just used for servicing things.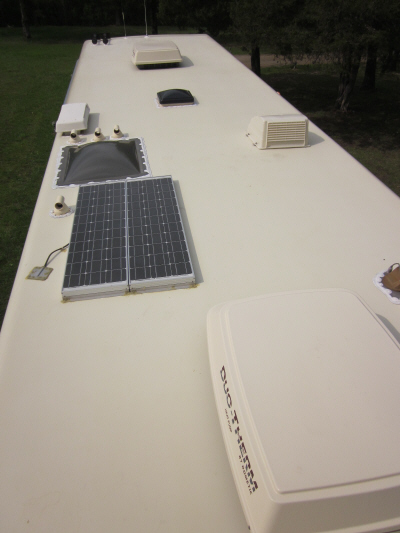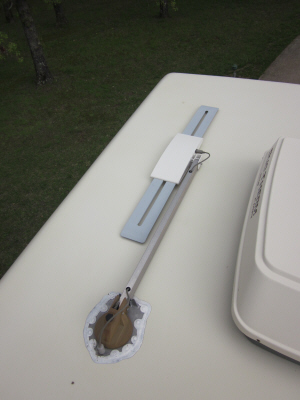 There are solar panels, air horns, radio and CB antennas, and a TV antenna on the roof. Everything is in excellent condition. This is the best roof you can buy as it is all fiberglass and has no seams at all. There is no comparison with most of the RV market. Most diesel pushers have rubber roofs, which you do not want. They require constant maintenance, are easy to damage with low tree branches, are susceptible to mold and mildew, and will one day need to be replaced due to age. However, this fiberglass roof has none of those characteristics. This is really a big deal and I cannot stress it enough. An RV is only as good as its roof. This feature is lauded by the RV Consumer Group's book "How to Select, Inspect, and Buy and RV" by JD Gallant. Page 275 offers some excellent advice, "All of my students learn to check two areas that set the pulse for quality: the galley and the roof."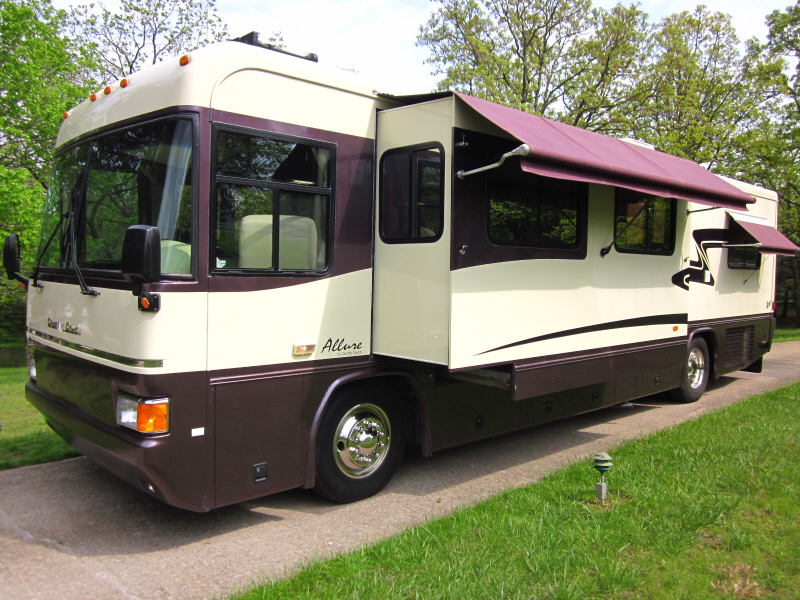 The original price of this motorhome was about $230,000.00 plus tax and registration at the end of 1997. It is not much different now than it was then. Remember it only has 61,693 miles on it. I have this motorhome advertised for $62,000 locally here at home. The least I will accept is $54,900.
We live in a resort town next to Table Rock Lake (the west side) just across from the Branson, Missouri area. This is a great time of year to visit Branson because there are no crowds (schools have not ended yet). It might make a nice trip to combine a visit to Branson with picking up the motorhome. I would be happy to pick you up at any one of 3 airports: Springfield SGF, Branson BKG, and Northwest Arkansas XNA. Some of the super discount airlines are moving in around here. Branson has Frontier Airlines, Branson Air Express, and Airtran Airways (access these through www.flybranson.com), while Springfield now has Allegiant Air (www.allegiantair.com). The discount airlines are not listed on travel websites like Orbitz.com; rather, you have to go directly to their websites to find flights.
The motorhome has linens and bedding. Everything is laundered and fresh. There are dishes and silverware and lots of other things included also if you want them. Tires are checked. Propane is nearly full. Diesel tank is about 3/4 full (our motorhome warming gift to you).
Many thanks for looking.
(Motorhome is now sold -- Thank you)